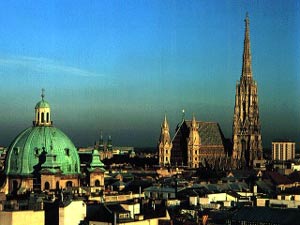 Vienna is the capital of Austria, and also one of the nine States of Austria. Vienna is Austria's primate city; with a population of about 1.7 million (2.2 million within the metropolitan area), and is by far the largest city in Austria as well as its cultural, economic and political centre. Vienna lies in the very east of Austria and is close to the Czech Republic, Slovakia and Hungary. In 2001, the city centre was designated a UNESCO World Heritage Site and the city ranks third in the world in terms of quality of life.

Vienna's cultural life is multi-faceted. You have the choice of 50 theatres, four opera houses, two stages for musicals, 100 museums and numerous theatre, music and dance festivals. The Museumsquartier (museum quarter) with its baroque facade is home to one of the biggest cultural districts in Europe.

Vienna is known worldwide as a city of music. Quality orchestras and ensembles are its seal of excellence. Along with well-established ensembles for contemporary music classical music continues to play a vital role, as made evident by the City of Vienna Concert Orchestra and the Vienna Symphony Orchestra, amongst others. The Vienna Academy, the Vienna Chamber Orchestra and the Women's Chamber Orchestra are dedicated to tradition and modern music alike. International artists are a great gain to cultural life in Vienna.

Environmentally, Vienna is a model city as it meets all the relevant criteria applying for instance to water supply and waste water management, waste disposal, clean air management and the city's overall ecological balance. One third of Vienna's entire urban area is made up of conservation areas, protected landscapes, a national park and similar protection initiatives.

Vienna ranks among the cities with the best quality of life not least because of its good air quality. In order to uphold the high standard, the project "Urbane Luft Initiative - Wien (ULI)" (Urban Air Initiative – Vienna) has a clear focus on reducing the air's fine dust load and the concentration in nitric oxides.

Source:


1 - Fleming's Hotel Wien Westbahnhof - Vienna

Class :
No of rooms : 146
City : Vienna
Address : Wien-Westbahnhof Neubaugürtel 26-28 1070 Wien
Fleming's Hotel Wien Westbahnhof with its perfect location directly next to Vienna's most famous shopping street, opens it's doors in the heart of the city in April. The hotel is well equipped with more ...

2 - Kolping Wien Zentral - Vienna

Class :
No of rooms : 44
City : Vienna
Address : Stiegengasse 10 / Ecke Gumpend Gumpendorfer Straße 39 | 1060 Wien
Our new Kolpinghaus Wien Zentral was opened on 1 July 2007. It is the ideal base to reach all attractions of Vienna's city centre within 12 minutes walk. Although the hotel is situated in the city ce more ...

3 - Austria Trend Hotel Savoyen Vienna - Vienna

Class :
No of rooms : 309
City : Vienna
Address : Rennweg 16
Just opposite Vienna's stunning Belvedere Palace & Garden, this luxurious 4-star hotel unites classic and modern styles in a beautiful design. Surrounded by historic buildings, the Austria Trend Ho more ...

4 - Gartenhotel Gabriel City - Vienna

Class :
No of rooms : 55
City : Vienna
Address : Landstrasser Hauptstrasse 165
Our hotel, with its beautiful garden, is centrally and quietly located on one of Vienna's oldest shopping streets. Our regular guests especially appreciate the friendly and individual service of our s more ...

5 - Clima Cityhotel Vienna - Vienna

Class :
No of rooms : 37
City : Vienna
Address : Theresianumgasse 21a Austria - 1040 Vienna
...relax in the center of Vienna...our hotel is situated in a quiet street with a park on the other side..The old center is in walking distance..in the upper floors you can enjoy a fantastic panoramav more ...

6 - Am Spiegeln - Vienna

Class :
No of rooms : 25
City : Vienna
Address : Johann-Hörbigergasse (Johann-Hörbiger-Gasse) 30, A-1230 Vienna
A nice place to stay in Vienna, walking distance from the Vienna Woods, 10 minutes from the castle of Schönbrunn and 25 minutes from the historical centre of Vienna. A tranquil and natural setting, more ...

7 - Austria Trend Hotel Messe - Vienna

Class :
No of rooms : 243
City : Vienna
Address : Messestrasse (Messestraße) 2, 1020 Wien Austria
Located right opposite the Messe Wien Neu - Vienna's fair and convention center - this elegantly curved building connects the exhibition grounds and the recreation area of the Wiener Prater. more ...

8 - Austria Trend Hotel Lassalle - Vienna

Class :
No of rooms : 140
City : Vienna
Address : Engerthstrasse 173 - 175
You will find the modern, stylish accommodation of this hotel located conveniently between the city centre and the United Nations building. From here you can easily explore all of Vienna's most popul more ...