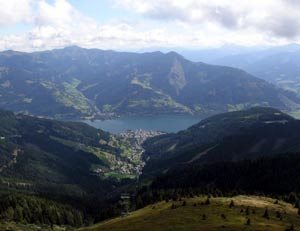 Zell am See is a lakeside winter ski resort in the federal state of Salzburg, Austria. It is the administrative center of the Zell am See district (Bezirk), also known as Pinzgau. Zell am See is located at [show location on an interactive map] 47°19?26?N, 12°47?55?E, on the Zeller See, and has a population of 9,638 (2001).

It is the most important holiday destination in all of Austria - and the friendliest one for families in all of Europe, too: Zell am See-Kaprun belongs to the most perfect holiday locations on an international scale. Since 1966, the two communities have been 'going together' as the 'Europa-Sportregion'. Guests from all over the world are thronging to get into the heart of the Pinzgau year after year.

About 132 kilometres of pistes and a unique offer of activities away from the trails characterise the region's multi-facetted face. The local mountains, Kitzsteinhorn and Schmittenhöhe, are ideal for descending down into the valley on superb powder snow. As early as October, skiers and snowboarders start into their snow-white season. At the foot of the mountain, visitors meet an abundance of choices, for example cross-country skiing, tobogganing, and hiking.

Source:


1 - Grand Hotel Zell Am See - Zell am See

Class :
No of rooms : 110
City : Zell am See
Address : Esplanade 4-6
The Grand Hotel Zell am See is situated in a unique position on a private peninsula right at the shore of Lake Zell. The atmosphere of a mountain town and an extraordinary ambience await you. On the o more ...