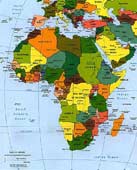 Africa is the world's second-largest and second most-populous continent, after Asia. At about 30,221,532 km² (11,668,545 mi²) including adjacent islands, it covers 6.0% of the Earth's total surface area, and 20.4% of the total land area. With more than 900,000,000 people (as of 2005) in 61 territories, it accounts for about 14% of the world's human population. The continent is surrounded by the Mediterranean Sea to the north, the Suez Canal and the Red Sea to the northeast, the Indian Ocean to the southeast, and the Atlantic Ocean to the west. There are 46 countries including Madagascar, and 53 including all the island groups.

Africa, particularly central eastern Africa, is widely regarded within the scientific community to be the origin of humans and the Hominidae tree, as evidenced by the discovery of the earliest hominids, as well as later ones that have been dated to around 7 million years ago including Sahelanthropus tchadensis, Africanus, Homo Erectus, with the earliest humans being dated to ca. 200,000 years ago, according to this view.

Source:

Africa places
Algeria
Egypt
Namibia
South Africa
Tanzania

Other areas
Africa
Asia
Central America
Europe
North America
Oceania
South America


| | |
| --- | --- |
| Africa links | Links Categories |

Roaming Africa
Roaming Africa offers information about South African safaris, tours and an accommodation travel directory.

Africa Point
Africa Point: Africa travel, online bookings and information for safari, tours, vacations, hotels and car rentals. Kenya, South Africa, Tanzania, Seychelles, Zimbabwe, Egypt, Uganda and more. In a continent as diverse and rich in resources as Africa, You can be sure that any special interest you may have can be readily catered for by us.

Africa Destinations
Discover the thrill and excitement of an African experience and marvel at the array of wildlife, rich landscapes and diverse cultures. Africa's wealth of contrasts offers a kaleidoscope of images and memories never to be forgotten. We are committed to making your African Safari the trip of a lifetime, a truly unique experience.

Safaris in Africa
An extensive directory of safaris, tours, hotels and car-hire options covering Eastern and Southern Africa (including Kenya and South Africa). Tours can be designed and booked online. Most African safaris are "guided" in the sense that you have a professional ranger or tracker with you. Many of the game parks in Africa allow visitors to go on a self-drive safari. You will see lots of wildlife and it is safe as long as you stay in your vehicle when you are outside the rest camps.

African Safaris and Tours
African safaris and tours by Langa Safaris, giving you a different view of Africa - on safari in Africa

African Safari
With e-gnu.com African Safaris, you benefit from 15 years of experience in tailor-made safaris and vacations to Africa. Our dedicated consultants work with you to structure an itinerary to meet your exact requirements and will provide discounted rates on all accommodation and safari tours. While traveling in Africa, our offices in Southern and East Africa are available 24/7 to provide any necessary assistance. We are committed to service excellence and to making dream African safaris come true.

Safari for less
Affordable African Safari & Africa Travel tours to Kenya, Tanzania, Uganda, Zimbabwe, Botwana South Africa & Egypt with information on Africa attractions, Maps, Weather & Animals of Africa. Safari travel guide with destinations & lodges.

Indaba.info
Best Rates on Car Hire for Indaba 2004, Durban, South Africa. National Car Rental agency for low prices on vehicle hire. Pre & Post Indaba tours, hotels, ideas and more.

Classic Africa
Safari and photographic tours to South Africa, Botswana, Zimbabwe, & Namibia - tailor-made by Classic Africa. Safari, ecotourism & adventure travel in Africa.

Antbear Guesthouse
Stay in Antbear Guesthouse, a delightful guesthouse in the foothills of the Drakensberg. This cottage is located in KwaZulu-Natal, South Africa.

Cape Town accommodation
Cape Town self catering accommodation and vacation rentals in Clifton, Camps Bay, Bantry Bay and the Atlantic coast suburbs.

Drakensberg tourism
The magic of the Drakensberg Mountains in South Africa, the beauty of the Natal Midlands, the customs and traditions of Zululand, its prolific bird and wildlife waits patiently for you to discover. Drakensberg accommodation, hiking trails, property, tourism and adventure.

Paradise Place German Guesthouse
Affordable Cape Town self catering guesthouse and vacation rentals adjacent to Bloubergstrand beaches and close to the city. Accommodation Cape Town Blouberg.

Where To Stay
Accommodation in South Africa - the largest accommodation only directory in Southern Africa. Wheretostay is a directory for golf courses, activities, restaurants and accommodation in South Africa, Mozambique, Namibia & Zimbabwe.