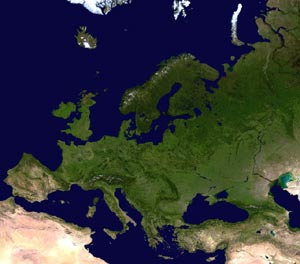 Europe is one of the seven traditional continents of the Earth. Physically and geologically, Europe is the westernmost peninsula of Eurasia, west of Asia. Europe is bounded to the north by the Arctic Ocean, to the west by the Atlantic Ocean, to the south by the Mediterranean Sea, to the southeast by the Caucasus Mountains and the Black Sea and the waterways connecting the Black Sea to the Mediterranean. To the east, Europe is generally divided from Asia by the water divide of the Ural Mountains, the Ural River, and by the Caspian Sea.

Europe is the world's second-smallest continent in terms of area, covering about 10,180,000 square kilometres (3,930,000 sq mi) or 2.0% of the Earth's surface. The only continent smaller than Europe is Australia. It is the third most populous continent (after Asia and Africa) with a population of 710,000,000 or about 11% of the world's population. Europe's overall population density is one of the highest in the world. However, the term continent can refer to a cultural and political distinction or a physiographic one, leading to various perspectives about Europe's precise borders, area and population. Of Europe's 48 countries, Russia is its largest by area and population, while the Vatican is the smallest. Europe is the birthplace of the European Union, a union founded in 1993 (but the roots of which date back to the 1950s) to enhance political, economic, and social co-operation and integration; currently, it comprises twenty-seven member states.

Source:

Europe places
Albania
Andorra
Austria
Belarus
Belgium
Bulgaria
Cyprus
Czech Republic
Denmark
Faroe Islands
Finland
France
Germany
Greece
Hungary
Ireland
Italy
Lithuania
Luxembourg
Netherlands
Norway
Poland
Portugal
Russia
Serbia
Spain
Sweden
Switzerland
Turkey
Ukraine
United Kingdom

Other areas
Africa
Asia
Central America
Europe
North America
Oceania
South America


| | |
| --- | --- |
| Europe links | Links Categories |

Eurapart
Eurapart is John Williams hobby others. Eurapart is a travel Web site with plenty of unbiased information on European budget accommodation and transport. We do not own hotels and we are not Travel Agents, but we can help you find cheap hotels and make travel arrangements over the Internet.

Villa Vacation
Hundreds of the finest villas, chalets, homes and apartments. Villa-Vacation.com offers villas, condos and apartments in Spain, France, Italy, Croatia, Sardinia, Sicily, Portugal, Greece, Turkey, California, Florida, Thailand and the rest of the world.

Airfares to Europe
How to find discount airfares to Europe and links to European travel guides. Also claims that offers the lowest prices for Europe packages.

Pack and Pedal Europe, Inc.
Biking, Bike & Barge, and hiking tours in Western Europe, including Holland, France, Austria, Italy, Belgium, Switzerland, Germany and Iceland by Hennie van den Hengel and her team reaching their 8th year of selling exciting Biking and Bike & Boat trips throughout Europe. Biking adventure, great reviews!

In Your Pocket
In Your Pocket is your one-stop travel and information portal for more than 50 European cities and resorts by Matthias Lufkens and George, Oliver and Nicolas Ortiz. In Your Pocket is a Central and Eastern Europe's leading provider of urban information, supplying locally produced, practical information for over fifty cities all over the region, available at the travel portal www.inyourpocket.com and in 38 publication guide books, published in 17 countries and two languages.

Eurotrip.com
Eurotrip.com is an independently owned travel website and community based in Boston, Massachusetts. For over ten years, we have been the definitive site for those passionate about budget travel in Europe. Backpacking, student and independent European travel - in depth facts, reviews, articles, discussion, live reports, travel advice...

Europe Mountains
Europe Mountains disperses knowledge about beautiful places and towns in the Alps, the Pyrenees, the Scottish Highlands or the Central European Tatra, and searches for the best conditions for hiking, snowboarding, climbing and skiing in all mountain resorts. Reserve your skiing holidays with Europe-Mountains. Over 1200 ski accommodation properties in 30 best ski resorts of Europe. Lowest market prices for most properties. Europe-Mountains offers best accommodation solutions for your winter holiday.

Freedom Tour
Freedom Tour - Fully Customized Vacations to Europe & North America. Personalized Vacations to USA, Italy, Greece, France, Spain and UK.

FreeToDo Travel Guides
FreeToDo Travel Guides - Thousands of free things to see and do throughout. The only comprehensive guide to thousands of free things to see and do throughout Europe and the USA and vacation accommodation by owner worldwide, castles, historic monuments, museums, art galleries. Sections about Uk and Ireland, France and Italy.

Visit Europe
Welcome to visiteurope.com, your gateway to the hospitality of the 36 member countries of the European Travel Commission. Let this website be your personal guide for exploring the beauty and interesting diversity these countries have to offer. All the countries have joined together on visiteurope.com to provide you with a wonderful resource to obtain all the information you need to make your trip to Europe the trip of a lifetime.

While browsing through our pages or the map of Europe you will find many interesting articles about the countries, their exciting cities and the regions of Europe, as well as a list of events taking place during your stay. Discover a broad range of practical tourist information and a series of useful tools, such as weather conditions, the currency converter, brochure downloads or the opportunity to send e-cards of various countries to your friends and family.

tobook.com
Europe hotels and accomodation. Online hotel reservations in France, Germany, Holland, Italy, United-Kingdom, Spain. The website provides online hotel reservations in Europe. Includes also info about many cities.