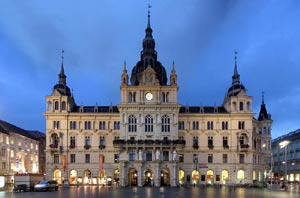 Graz with a population of 287,723 as of 2006 (of which 250,099 have principal residence status), is the second-largest city in Austria after Vienna and the capital of the federal state of Styria (Steiermark in German).

Graz has a long tradition as a student city: its six universities have over 40,000 students. Graz's "Old Town" is one of the best-preserved city centers in Central Europe. In 1999, it was added to the UNESCO list of World Cultural Heritage Sites. Graz was sole Cultural Capital of Europe for 2003.

Source:

Graz places

Other areas
Graz
Innsbruck
Kaprun
Klagenfurt
Linz
Reutte
Salzburg
Schwechat
Seefeld in Tirol
Vienna
Zell am See


Graz Tourismus
Travel info about places of interest like museums, galleries, excursions, Schlossberg, Kunsthaus Graz, Mur Island, Schloss Eggenberg and more but also some general information about Graz, Austria. Coming to Graz is the beginning of a new friendship. There is an immediate sense of familiarity and the alleys and squares, impressive buildings, museums and galleries make you want to find out more about this city at the crossroads of cultures.