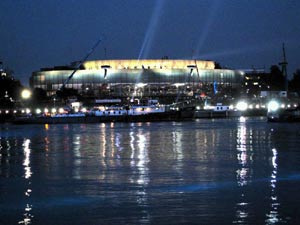 Linz is the third largest city of Austria and capital of the state of Upper Austria (Oberösterreich). It is located in the north centre of Austria, approximately 30 km south of the Czech border, on both sides of the river Danube, the longest river of the European Union and Europe's second-longest (after the Volga). The population of the city proper is 188,968 (2001), and 271,000 in the agglomeration.

The main street "Landstraße" leads from the "Blumauerplatz" to the main square. In the middle of this square the high "Pestsäule" ("plague column", also known as "Dreifaltigkeitssäule" (Dreifaltigkeit means Holy Trinity)) was built to remember the people who died in the plague epidemics.

Near the castle, which is located on the same site as the old Roman fortress Lentia was once built — and also being the former seat of Friedrich the III — the oldest Austrian church is located: Sankt/Saint Martins church. It was built during early medieval Carolingian times.

Other sights include:
St. Mary's Cathedral (Mariendom), Roman Catholic
Pöstlingberg-Kirche
Brucknerhaus — the concert hall named after the composer Anton Bruckner, who was born in "Ansfelden", a small town next to Linz
Gugl Stadium, is home to the LASK (Linzer Athletik Sport Klub), which is claimed to be the third-oldest soccer club in Austria.