Amsterdam places
Other areas
Amsterdam
Badhoevedorp
Delft
Eindhoven
Haarlem
Hoofddorp
Maastricht
Rotterdam
Scheveningen
The Hague
Utrecht
| | |
| --- | --- |
| Amsterdam links | Links Categories |

Amsterdam hotels
Hotels in Amsterdam, Netherlands. This booking site for Amsterdam hotels offers a selection of hotels: charm, luxury, comfort hotels reservation, online booking, accommodation search. All Amsterdam hotel locations are bookable real time so you know that have made an instant Amsterdam City centre or airport hotel reservation.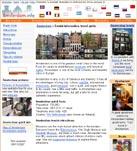 Amsterdam.info
Amsterdam is one of the greatest small cities in the world. From its canals to world-famous museums and historical sights, Amsterdam is one of the most romantic and beautiful cities in Europe. Amsterdam tourist information, accommodation, hotels, apartments, hostels, airport information, coffee shops and red light district. Amsterdam is also a city of tolerance and diversity. It has all the advantages of a big city: culture, nightlife, international restaurants, good transport - but is quiet, and largely thanks to its canals, has a little road traffic. In Amsterdam your destination is never far away, but get a bike for most authentic experience.

Easytobook.com
Amsterdam hotels, Hotels in Amsterdam and Amsterdam hotel - EasyToBook.com is part of EasyToBook GMBH, EasyToBook.com registered since 1999 as a online hotel reservation site of all kinds. If you want to go for a vacation in Amsterdam and are looking for Amsterdam hotels or a particular Amsterdam hotel, easyToBook.com is the spot for you! Nearly every kind of hotel in Amsterdam features on our site: whether you are looking for a luxurious accommodation in Amsterdam, a cheap hotel in Amsterdam or perhaps a Schiphol hotel (Amsterdam airport hotel), these can all be viewed on easyToBook.com.

iamsterdam.com
www.iamsterdam.com is the City of Amsterdam's official English-language portal for Amsterdam's international visitors, expats, students and enterprises. Amsterdam's best, from hot spots to underground discoveries. Our 'I ambassadors' have carefully selected the most original, unusual, creative and unique that the city has to offer - with you in mind. You may not have heard of them before, but you'll surely never forget them.