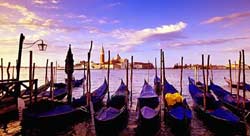 Venice (Italian: Venezia, Venetian: Venezsia, Latin: Venetia) is a city in northern Italy, the capital of region Veneto, and has a population of 271,251 (census estimate January 1, 2004). Together with Padua, the city is included in the Padua-Venice Metropolitan Area (population 1,600,000). Venice's nicknames include "Queen of the Adriatic", "City of Water", "City of Bridges", and "The City of Light".

The city stretches across numerous small islands in the marshy Venetian Lagoon along the Adriatic Sea in northeast Italy. The saltwater lagoon stretches along the shoreline between the mouths of the Po (south) and the Piave (north) Rivers. The population estimate of 272,000 inhabitants includes the population of the whole Comune of Venezia; around 62,000 in the historic city of Venice (Centro storico); 176,000 in Terraferma (literally firm land, the areas outside the lagoon), mostly in the large frazione of Mestre and Marghera; and 31,000 live on other islands in the lagoon.

The Venetian Republic was a major sea power and a staging area for the Crusades, as well as a very important center of commerce (especially the spice trade) and art in the Renaissance. Though ironically the city-state lost much of its power and importance due to the decline and fall of the Byzantine Empire, which Venice helped to destroy. This was due to the fact that Turkish control of the Eastern Mediterranean gave the European maritime powers incentive to find trade routes elsewhere.

Source:

Venice places

Other areas
Abruzzo
Ancona
Aosta Valley
Apulia
Bologna
Bolzano
Cagliari
Campobasso
Capri
Catanzaro
Florence
Genoa
Lombardy
Milan
Napoli
Palermo
Perugia
Potenza
Rome
Todi
Trento
Trieste
Turin
Venice


| | |
| --- | --- |
| Venice links | Links Categories |

In Venice Accommodation
Venice Hotels, Apartments and B&Bs selected for travellers respecting the basic criterias to have a comfortable and unforgettable stay in Venice Italy. Also available a service to book Venice guided tours with professional and official guides. Finally San Marco luxury apartment recently restored on the forth floor of Sullam Palace, one hundred steps away from Saint Mark's Square.

Venice Booky
Venice apartments fully furnished and ready for short term rentals. We can offer flats in each part of Venice depending on your personal goals. Venice Apartments Rentals offers flats ready for short rental periods of three days. Possibility to give accommodation to groups till 22 people in the same residence.

In Venice Hotels
Venice hotels directory: hotels both for Venice and Mestre personally selected for tourists from 2 up to 4 stars hotels. Cheap, budget and luxury Venice hotels especially selected for business and leisure travelers: secure bookings on on line directly to the hotels without payment in advance.

1st Venice hotels
Whenever you are traveling to Venice, our Venice hotels server will help you to find and to book the most suitable accommodation. We offer you wide range of cheap, luxury and specially selected lodgings with free on-line reservation. You can select hotels in Venice by categories, rates and facilities and we will try to find for you the lowest rates available on your travel dates.

In Venice Today
In Venice Today offers suggestions both for alternative accommodation as Bed & Breakfast, apartments, and hotels. Besides, traditional and seafood restaurants, venetian bars and pubs personally selected for tourist who want to enjoy real Venetian cuisine. Museums, exhibitions, photos of all the churches of Venice.

1 - Hotel Danieli - Venice

Class :
No of rooms : 221
City : Venice
Address : Riva degli Schiavoni 4196 Castello - Venice 30122 - Italy
Synonymous with the splendour and romance of Venice, this skillfully-restored palace is just metres away from the Piazza San Marco, the famous Doge's Palace and the Bridge of Sighs. The hotel's ma more ...

2 - Residenza Cannaregio - Venice

Class :
No of rooms : 66
City : Venice
Address : Cannaregio 3210/a
This charming hotel, located away from the noise and crowds of the city centre, was originally an ancient artisan establishment called 'Squero' and a place where gondolas were built. The hotel i more ...

3 - Hotel Alla Fava - Venice

Class :
No of rooms : 15
City : Venice
Address : Castello, Campo della Fava 5525 Venezia
Hotel alla Fava is located in the beating heart of Venice centre between Rialto Bridge and St. Mark's Square in a 16th Century mansion "Gussoni Palace", which overlooks a simple quiet square " more ...

4 - Hotel Palazzo Barbarigo Sul Canal Grande - Venice

Class :
No of rooms : 18
City : Venice
Address : San Polo
This charming hotel is located near the Canale Grande, rialto bridge and famous Palazzo Pisani-Moretta, only a few minutes from Piazzale Roma and the train station. The hotel features a private land more ...

5 - Albergo Ca' Alvise - Venice

Class :
No of rooms : 40
City : Venice
Address : San Marco 3673
NEW! Situated in the heart of Venice, just 20 metres from the famous Fenice Theatre, the hotel is only 200 metres from Saint Mark's Square. Also just a short walk away along some lovely Venetian al more ...