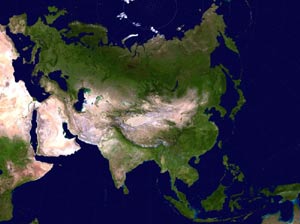 Asia is the world's largest and most populous continent. It covers 8.6% of the Earth's total surface area (or 29.4% of its land area) and, with almost 4 billion people, it contains more than 60% of the world's current human population.

Chiefly in the eastern and northern hemispheres, Asia is traditionally defined as part of the landmass of Africa-Eurasia – with the western portion of the latter occupied by Europe – lying east of the Suez Canal, east of the Ural Mountains, and south of the Caucasus Mountains and the Caspian and Black Seas. It is bounded to the east by the Pacific Ocean, to the south by the Indian Ocean, and to the north by the Arctic Ocean.

Given its size and diversity, Asia – a toponym dating back to classical antiquity – is more a cultural concept incorporating a number of regions and peoples than a homogeneous physical entity.

Source:

Asia places
Azerbaijan
Cambodia
China
India
Indonesia
Iran
Israel
Japan
Laos
Malaysia
Myanmar
Nepal
Thailand

Other areas
Africa
Asia
Central America
Europe
North America
Oceania
South America


| | |
| --- | --- |
| Asia links | Links Categories |

AsiaHotelCentral.com
Asia Hotels a free Hotel Reservation guide for Asia. Guaranteed LOW Rates with AsiaHotelCentral.com. Asia Hotel Reservation over 1500 Hotels in Asia with Discounts!

Asiarooms.com
Asia hotels and resorts reservation service - Travel information guide for Thailand, Indonesia, Hong Kong, Singapore, Japan, Korea, China, Macau, Malaysia, Australia. Wide discount Asia hotel directory.

Asiahotels.net
Asia Hotels Network. Asiahotels.net offers a directory of Asia and Australia hotels and resorts with discount up to 75% off rack rates including hotel in popular cities such as Bangkok, Tokyo, Singapore, London, Sydney, France, Switzerland, Italy etc. Find out all you need to know about room rates, hotel facilities, travel guides, maps, and events. Online bookings with with secure reservation.