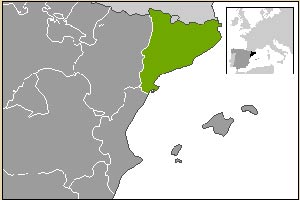 Catalonia (Aranese Occitan: Catalonha; Catalan: Catalunya; Spanish: Cataluña), is an Autonomous Community in the Kingdom of Spain. The Autonomous Community of Catalonia covers an area of 32,114 km² with an official population of 7,134,697 (2006) from which immigrants represent an estimated 12.3% of the total population. It borders France and Andorra to the north, Aragon to the west, Valencia to the south, and the Mediterranean Sea to the east (580 km coastline). Official languages are Catalan, Spanish, and Aranese.

The capital city is Barcelona. It is divided into four provinces: Barcelona, Girona, Lleida, and Tarragona. Its territory corresponds to most of the historical territory of the former Principality of Catalonia.

Source:


1 - Catalunya Express - Tarragona

Class :
No of rooms : 31
City : Tarragona
Address : C/General Contreras, 16 43004 Tarragona
The Catalunya Express Hotel there are 31 available and comfortable rooms provided with bathroom with hairdryer, air conditioning, television, telephone and heating. In ordrer to enjoy a more comfortab more ...

2 - Eurostars Grand Marina Hotel GL - Barcelona

Class :
No of rooms : 291
City : Barcelona
Address : Moll de Barcelona WTC, s/n - Edificio Oeste - 08039
Mediterranean air, avant-garde art, and a soft sea breeze prevail at the privileged facilities of the five-star Eurostars Grand Marina GL , THE RAMBLAS , hotel located in the World Trade Center leisur more ...

3 - Meliá Barcelona - Barcelona

Class :
No of rooms : 314
City : Barcelona
Address : Avda. Sarriá 50
Luxurious hotel situated in the most modern area of Barcelona next to the new shopping center and just 10 minutes from the airport. Enjoy the comfortable surroundings of the 300 functionally decorated more ...

4 - Hotel Medium Abalon - Barcelona

Class :
No of rooms : 40
City : Barcelona
Address : Travesera de Gracia 380-384
The Medium Abalon hotel is a charming establishment located very close to the Sagrada Familia (Holy Family Church), one of the city's marvels of Modernism. It offers spacious rooms with all comforts a more ...

5 - Hotel Icaria Barcelona - Barcelona

Class :
No of rooms : 180
City : Barcelona
Address : Avinguda Icaria 195 - Avenida Icΰria, 195 · Villa Olνmpica · 08005 Barcelona
Newly opened hotel, located in the quietest and safest neighborhood of Barcelona, just one block away from the beaches, and only two metro stops to the city center. Enjoy our big rooms, in a hotel wi more ...
| | | | | | |
| --- | --- | --- | --- | --- | --- |
| Tarragona (IPA: [tərəˈɣonə] in Catalan) is a city located in the south of Catalonia and east of Spain, by the Mediterranean Sea. It is the capital of the c ... more | Lleida is a city in the west of Catalonia, Spain. It had 124,709 inhabitants as of 2005, including the attached municipalities of Raïmat and Sucs. It is the ce ... more | Sitges (Latin: Blanca Subur), Catalonia, Spain is a small city about 40 kilometers south west of Barcelona renowned worldwide for its Film Festival and Carnival ... more | Barcelona is the capital and most populous city of Catalonia and the second largest city in Spain, with a population of 1,605,602 in 2006. It is located on the ... more | Girona (Spanish: Gerona, French language: Gérone) is a city located in the northeast of Catalonia, Spain, at the confluence of the rivers Ter and Onyar. It is ... more | |