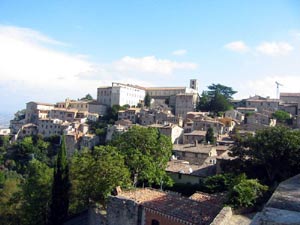 Todi is a town and comune (municipality) of the province of Perugia(Umbria) in central Italy. It is perched on a tall two-crested hill overlooking the east bank of the river Tiber, commanding distant views in every direction.

Almost all Todi's main medieval monuments — the co-cathedral church (Duomo), the Palazzo del Capitano, the Palazzo del Priore and the Palazzo del Popolo — front on the main square on the lower breast of the hill: the piazza is thus one of the most picturesque in Italy and is often used as a movie set. The whole landscape is sited over some huge ancient Roman cisterns, with more than 500 pits, which remained in use until 1925.

Source:

Todi places

Other areas
Abruzzo
Ancona
Aosta Valley
Apulia
Bologna
Bolzano
Cagliari
Campobasso
Capri
Catanzaro
Florence
Genoa
Lombardy
Milan
Napoli
Palermo
Perugia
Potenza
Rome
Todi
Trento
Trieste
Turin
Venice


Casaumbria: Todi Umbria Rentals
Casaumbria: Short term weekly and monthly vacation rentals in and around Todi in Umbria, Italy. Accommodation types include apartments, farm houses, agriturismo and villa.

Umbria Online
A favourite weekend destination, the charm of Todi continues unabated. Perched on its impregnable rocky hill, the Medieval flavour of this town rich in monuments and things to see continues to attract quality tourism from Italy and abroad.

Todi was founded by the Umbrians but came under the influence of Rome between the 5th and 4th century BC with the name of Tutere. Under the Romans Todi became first a municipium and then assumed the status of Colonia Julia Fida Tuder under the Empire, under the government of the Clustumina tribe.

Via della Consolazione leads up from here to the old town centre. The broad set of steps and terraced lawns to the right lead up to the church of San Fortunato. The church was built by the Lesser Franciscan friars and once belonged to the Vallombrosa order. A first phase of construction got underway between 1292 and 1328, with the completion of the choir and two of the four arcades. The second stage of building lasted from 1408 until 1464.

Back towards Porta Libera there is Porta Aurea and the Camuccia district, which occupies the area between the two circles of Roman fortifications – a mere 80 metres one from the other. The church of Santa Maria in Camuccia, composed of a 7th - 8th cenury construction beneath and a 13th century building above, stands on the main street of this area. The two columns at the entrance are Roman. The interior contains fine 14th and 15th century fresco decoration, but the most interesting element is certainly an extremely rare 12th century wooden statue of the 'Madonna with Child', similar to an 1198 piece currently in the Dahlem Museum of Berlin. The heads of the work were restored in the 16th or 17th century. The church also contains an interesting collection of Roman artefacts unearthed during excavations carried out here.