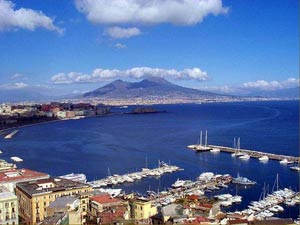 Naples (Italian: Napoli, Neapolitan: Nàpule) is the capital city of the Campania region and the Province of Naples in Italy. Its metropolitan area is the third largest in Italy and one of the largest in Europe. It is located halfway between the volcano, Vesuvius and a separate volcanic area, the Campi Flegrei, both of which form part of the Campanian volcanic arc.

The city itself has a population of around 1 million, the inhabitants are known as Neapolitans, napoletani or poetically partenopei. It is rich in historical, artistic and cultural traditions and gastronomy. The Neapolitan language is the geographically most diffuse Italian language, similar variations of the Neapolitan dialect ('o napulitano) are spoken throughout most of Southern Italy.

Between 1266 and 1861 Naples has been the capital town of the Kingdom of Naples (later of the Two Sicilies), usually simply indicated as "the Kingdom", other Italian states having different denominations. This history, coupled with its size, has given Naples the unofficial status of being the Capital of the South (in Italy).

In the modern day, the city is served by Naples International Airport at Capodichino, a civil airport hosted by a military one, once outside the town, now surrounded by built up area.

Source:


1 - Hotel Villa Ranieri - Napoli

Class :
No of rooms : 12
City : Napoli
Address : Via Cagniazzi (Cagnazzi) 29 - Napoli (Italy)
Villa Ranieri Hotel is an old noble residence dating back to 1700, surrounded by a wonderful garden with secular trees and plants. The hotel also offers the ideal atmosphere for job meeting and events more ...