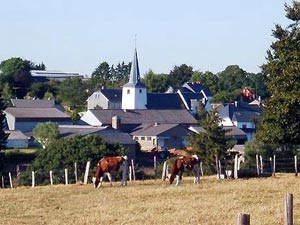 Wincrange (Luxembourgish: Wëntger, German: Wintger) is a commune and village in northern Luxembourg, in the canton of Clervaux. The commune is the largest in Luxembourg by geographic area.

Wincrange was formed on 1 January 1978 from the former communes of Asselborn, Boevange, Hachiville, and Oberwampach, all in Clervaux canton. The law creating Wincrange was passed on 31 October 1977.

As of 2005, the village of Wincrange, which lies in the centre of the commune, has a population of 197. Other towns within the commune include Asselborn, Boevange, Boxhorn, Brachtenbach, Deiffelt, Derenbach, Doennange, Hachiville, Hamiville, Hoffelt, Lullange, Niederwampach, Oberwampach, Rumlange, Stockem, and Troine.

Source:

Wincrange places

Other areas
Asselborn
Clervaux
Derenbach
Dirbach
Munshausen
Roder
Troisvierges
Wincrange


Administration communale de Wincrange
Gardienne d'une nature profonde et de véritables trésors d'art religieux, la commune de Wincrange se compose aujourd'hui de 27 villages, qui ont tous, dans une plus ou moins large mesure, joué leur rôle dans l'histoire mouvementée de cette région.

Les origines du village de Wincrange remontent à la nuit des temps. Dès l'an 786, on rencontre le nom de Winx, une graphie qui ne fera que changer au fil du temps. Jusqu'au jour de la fusion des communes, Wincrange est un village paisible, hébergeant moins de 100 habitants. Grâce à sa position géographique centrale, Wincrange reçoit le statut de commune en 1977, regroupant ainsi des localités pourtant plus importantes en habitants et en superficie.