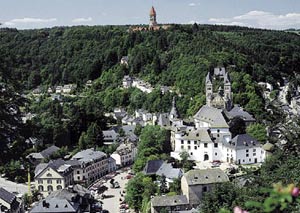 Clervaux (Luxembourgish: Klierf, German: Clerf) is a commune and town in northern Luxembourg, administrative capital of the canton of Clervaux. As of 2005, the town of Clervaux, which lies in the north of the commune, has a population of 1,037. Other towns within the commune include Eselborn, Reuler, and Weicherdange.

The Family of Man a famous exhibit of photos collected by Edward Steichen is on permanent display at the Castle of Clervaux.

The Saint-Maurice Abbey is situated close to the town of Clervaux. Notable associations include Halldór Laxness, 1902-1998, the Nobel Prize-winning Icelandic writer, who converted to Roman Catholicism while visiting the Abbey. A Roman Catholic mission to Scandinavia has for many years maintained a base at the Abbey.

Source:

Clervaux places

Other areas
Asselborn
Clervaux
Derenbach
Dirbach
Munshausen
Roder
Troisvierges
Wincrange


Tourisme Clervaux
La petite ville pittoresque au Nord du Grand-Duché de Luxembourg vous souhaite la bienvenue. Clervaux offre une grande diversité en événements culturels, sportifs et traditionels.

Clervaux va surprendre chacun de vous: si c'est avec l'exposition "Family of Man", la zone piétonne avec ses multiples magasins ou ses promenades tout autour de la ville.

Vous pouvez facilement joindre Clervaux en train. Laisser vous gâter dans un de nos excellents hotels et restaurants. Pour plus d'information, contactez le Syndicat d'Initiative de Clervaux.