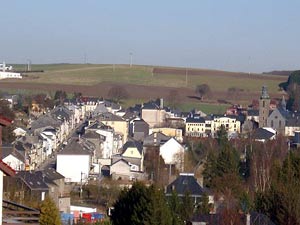 Troisvierges (Luxembourgish: Ëlwen, German: Ulflingen) is a commune and town in northern Luxembourg, in the canton of Clervaux. The two highest hills in Luxembourg, the Kneiff (560 m) and Buurgplaatz (559 m), are located in the commune. As of 2005, the town of Troisvierges, which lies in the south of the commune, has a population of 1,365. Other towns within the commune include Basbellain, Drinklange, Hautbellain, Huldange, and Wilwerdange. Until 28 December 1908, the commune was known as 'Basbellain', after its former administrative centre. On that date, the administrative centre was moved from Basbellain to Troisvierges.

Source:

Troisvierges places

Other areas
Asselborn
Clervaux
Derenbach
Dirbach
Munshausen
Roder
Troisvierges
Wincrange


Troisvierges links

Links Categories
OFFICIALS


Administration Communale de Troisvierges
Reculée à la pointe nord du Grand-Duché, la commune tient son empreinte pour une large part de sa situation géographique et de son évolution au cours de l'histoire. Pays d'échanges, la région le fut dès le début, le restait au fil des siècles et l'est aujourd'hui plus que jamais.

Tout commença quand, à un endroit perdu dans les immensités de la forêt ardennaise, des hommes, pour diverses raisons, se mirent à dégager des espaces pour y vivre. C'était à l'époque où les Romains traçaient la grande route qui devait relier les cités florissantes de Cologne et de Reims. Des populations s'implantèrent le long de cette chaussée et depuis, la région ne restait plus jamais tout à fait à l'écart des grands axes de circulation.