Europe / Luxembourg travel directory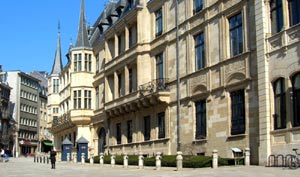 The Grand Duchy of Luxembourg (Luxembourgish: Groussherzogtum Lëtzebuerg, French: Grand-Duché de Luxembourg, German: Großherzogtum Luxemburg), also spelled Luxemburg, is a small landlocked country in western Europe, bordered by Belgium, France, and Germany. Luxembourg has a population of under half a million people in an area of approximately 2,586 square kilometres (999 sq mi).

Luxembourg is a parliamentary representative democracy with a constitutional monarchy, ruled by a Grand Duke. It is the world's only remaining sovereign Grand Duchy. The country has a highly developed economy, with the highest Gross Domestic Product per capita in the world. Its historic and strategic importance dates back to its founding as a Roman era fortress site and Frankish count's castle site in the Early Middle Ages. It was an important bastion along the Spanish road when Spain was the principal European power influencing the whole western hemisphere and beyond in the 14th–17th centuries making the polity an important place.

Source:

Luxembourg places
Capellen canton
Clervaux canton
Diekirch canton
Echternach canton
Esch-sur-Alzette canton
Grevenmacher canton
Mersch canton
Redange canton
Remich canton
Vianden canton
Wiltz canton

Other areas
Albania
Andorra
Austria
Belarus
Belgium
Bulgaria
Cyprus
Czech Republic
Denmark
Faroe Islands
Finland
France
Germany
Greece
Hungary
Ireland
Italy
Lithuania
Luxembourg
Netherlands
Norway
Poland
Portugal
Russia
Serbia
Spain
Sweden
Switzerland
Turkey
Ukraine
United Kingdom


| | |
| --- | --- |
| Luxembourg links | Links Categories |

Visit Luxembourg
Information from the Luxembourg National Tourist Office in the United States. The world's only Grand Duchy, Luxembourg is a constitutional monarchy neighboring Belgium, France, and Germany. Covering less than 1,000 miles, Luxembourg is home to nearly 450,000 residents, with about a fifth of these individuals residing in or near Luxembourg City. Roman Catholic is the primary religion, and foreign residents represent more than a third of Luxembourg's population.

Six Great Reasons to Visit Luxembourg:
Chemin de la Corniche: Lift your spirits at this pedestrian promenade commonly known as "Europe's most beautiful balcony."
1,000 Years in 100 Minutes: Take the Wenzel Walk through the city of Luxembourg's oldest quarters for an engaging and compelling millennial history.
Wine Tasting: Initiate a toast as you sample the dry whites that help put Moselle Valley on the map.
The National Museum of Military History: Get the big picture of the Battle of the Bulge.
Gourmet Delight: You'll find more Michelin star (14-star) restaurants per capita here than any other country in the world.
Biker's Paradise: Spin your wheels in the Ardennes region, a scenic wonderland for bikers.

Luxembourg National Tourist Office
Information on several sectors about the grand-duché like sights and attractions, accommodation, restaurants, privilege packs, culture, local products, sports, prepare your trip, annual events and more.
| | | | | | |
| --- | --- | --- | --- | --- | --- |
| Remich is a canton in the east of Luxembourg, in the district Grevenmacher. The capital is Remich. The canton consists of the communes of Bous, Burmerange, Dal ... more | Clervaux is a canton in the north of Luxembourg, in the district Diekirch. The capital is Clervaux. The canton consists of the communes of Clervaux, Consthum, H ... more | Vianden is a canton in the north of Luxembourg, in the district Diekirch. The capital is Vianden. The canton consists of the communes Putscheid, Tandel and ... more | Echternach is a canton in the east of Luxembourg, in the district Grevenmacher. The capital is Echternach. The canton consists of the communes of Beaufort, Bech ... more | Redange is a canton in the west of Luxembourg, in the district Diekirch. The capital is Redange, otherwise known as Redange-sur-Attert. The canton consists of t ... more | |