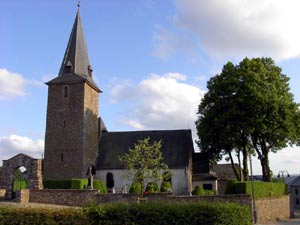 Munshausen (Luxembourgish: Munzen) is a commune and village in northern Luxembourg, in the canton of Clervaux. As of 2007, the village of Munshausen, which lies in the centre of the commune, has a population of 172, while the commune of Munshausen has a population of 1,034. Other settlements within the commune are Drauffelt (169 inhabitants), Marnach (581), Roder (61), and Siebenaler (51).

Source:

Munshausen places

Other areas
Asselborn
Clervaux
Derenbach
Dirbach
Munshausen
Roder
Troisvierges
Wincrange


Commune de Munshausen
La commune de Munshausen est située au nord-est du Grand-Duché. Les communes luxembourgeoises limitrophes sont Hosingen au sud, Kiischpelt et Eschweiler au sud-ouest, Clervaux au nord-ouest et Heinerscheid au nord. A l'est, l'Our forme la frontière avec l'Allemagne. La commune de Munshausen fait partie du canton de Clervaux et du district de Diekirch.

La commune de Munshausen appartient à l'Éislék (Ösling), la partie luxembourgeoise des Ardennes. Les paysages sont constitués de plateaux dégagés situés à une altitude moyenne de 500 m et dans lesquels les cours d'eau ont entaillé des vallées étroites.