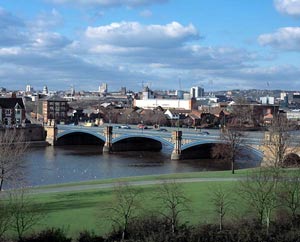 Nottingham is a city, unitary authority, and county town of Nottinghamshire in the East Midlands of England. The centre of Nottingham lies on the River Leen and its southern boundary follows the course of the River Trent, which flows from Stoke to the Humber. According to the 2001 census, Nottingham had an estimated city population of 275,100 which increased to an estimated 278,700 in 2005. The Nottingham Urban Area conurbation (which includes surrounding suburbs outside the city boundary such as Arnold, Carlton, West Bridgford and neighbouring towns) has a population of 666,358 (2001 figures). Nottingham is a member of the English Core Cities Group.

The heart of Nottingham City Centre is the Old Market Square, where a major redevelopment was completed in March 2007. Most of the main shopping streets surround the square. The Council House, whose disproportionately tall dome can be seen for miles around, is at the top of the square. In music hall times, many a visiting comedian would comment on stage; "If that's what the council houses are like here I'll put my name down!" Inside the Council House is the Exchange Arcade, a shopping centre. A bohemian quarter of the city known as Hockley is situated close to the Lace Market area.

Source:

Nottingham places

Other areas
Birmingham
Cornwall
Hampshire
Lancashire
Leeds
Liverpool
London
Manchester
Newcastle
North Devon
Nottingham
Scotland
Wales
Yorkshire


Nottingham
Experience Nottinghamshire: from Lord Byron to Paul Smith, Nottinghamshire has always taken centre stage for creativity. After all, Nottingham is regional capital and one of the UK's most stylish cities. Set within a county of outstanding natural beauty that includes Sherwood Forest, lively market towns and wonderful historic buildings. It's also home to the world's best-loved outlaw, Robin Hood. We offer much more than locations and legends: we know how to have a good time – that's why our nightlife, shopping, sports, arts and culture are all so famous. So live it, love it, and discover Nottinghamshire today.