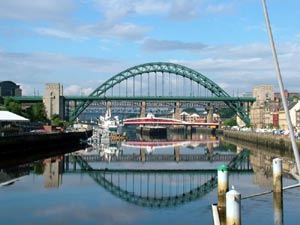 Newcastle upon Tyne (usually shortened to Newcastle) is a large city in Tyne and Wear, England. It is located on the north bank of the River Tyne and was formerly the county town of Northumberland. The city was founded in Roman times under the name Pons Aelius.

The city is the 20th most populous in England; the larger Tyneside conurbation, of which Newcastle forms part, is the 5th most populous conurbation in England. Newcastle is a member of the English Core Cities Group and (with Gateshead) the Eurocities network of European cities.

People from Newcastle and surrounding areas are commonly called Geordies. The Latin term Novocastrian, which can equally be applied to residents of any place called Newcastle, is usually only used for ex-pupils of the city's Royal Grammar School.

Source:

Newcastle places

Other areas
Birmingham
Cornwall
Hampshire
Lancashire
Leeds
Liverpool
London
Manchester
Newcastle
North Devon
Nottingham
Scotland
Wales
Yorkshire


NewcastleGateshead
Located in North East England, Newcastle (on the north bank of the River Tyne) and Gateshead (on the south bank) have been transformed into a single visitor destination called NewcastleGateshead. NewcastleGateshead is a mix of the modern and historic, renowned for its excellent shopping and amazing nightlife. But NewcastleGateshead has much more to offer - explore the beautiful architecture including the ancient city walls and castle; enjoy the stunning quayside with its waterfront bars and galleries; and don't miss the fantastic public art such as the Angel of the North.