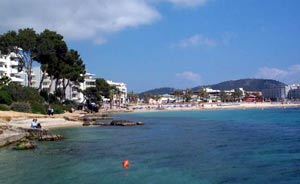 Santa Ponsa (Catalan: Santa Ponça) is a holiday resort in the south-west of Mallorca. Located in the municipality of Calvià, it is 18 kilometres from the capital Palma de Mallorca.

The resort is popular with British, Irish and German tourists. It is predominantly a summer resort with the season lasting from May to October. A family resort with plenty of bars, restaurants and nightly entertainment, and a clean and safe beach.

Santa Ponsa is one of the few Mallorcan resorts with a history, because it was here that King Jaime the First (Jaume in Catalan) landed on 10 September 1229 in his quest to conquer the island and take it from the Moors after more than 300 years of Muslim rule. Mallorca became part of the Kingdom of Aragon following Jaime's conquest, and was later annexed to the Kingdom of Spain.

A cross at the entrance to the marina marks the spot where Jaime landed. Every September there is a grand fiesta to commemorate the landing with a mock battle between the Moors and Christians on the beach. It is a two week fiesta which incorporates a pop concert and firework display.

There are two top golf courses in Santa Ponsa but visitors are only allowed to use the Santa Ponsa I course which, like Santa Ponsa II, has hosted a PGA European Tour event.

Source:

Santa Ponsa places

Other areas
Alcúdia
C'an Pastilla
Cala D´Or
Camp de Mar
El Arenal
Illetas
Magaluf
Palma de Mallorca
Palma Nova
Peguera
Portals Nous
Puerto de Andratx
Puerto Pollensa
Santa Ponsa


Santa-Ponsa.com
Santa Ponsa, on the south-west coast of Mallorca, is a thriving and busy holiday resort. This site is dedicated exclusively to the resort. From our site you can book your flights to Palma, arranmge your accommodation, hire a car, or arrange a transfer from Palma airport.

SantaPonsaScene.com
Santa Ponsa is located on the south west coast of the island of Mallorca approximately 20km, or 12 miles west of Palma. The main sandy beach is separated from the pine woods by the promenade. The pine woods provide excellent relief from the sun on extremely hot days and in the Summer months are very popular with locals who come from Palma and surrounding areas on Sundays for a day by the beach.

Sunbeds and parasols on the beach can be hired on a daily basis. The attendants will collect your money from you shortly after you take occupation of a sunbed. They also have pedaloes for hire and, for the more adventurous there is the sausage ride which is located at the south end of the beach.

Santa Ponsa Scene magazine is a FREE publication offering up-to-date local information including everything tourists need to know. There's information about the town and advice about those simple things that get taken for granted when travelling abroad such as using the phone, sending postcards, hiring a car or what to do in an emergency. It also contains a useful local map to help you get around and lots of info about places to visit and services you may need while you're here.