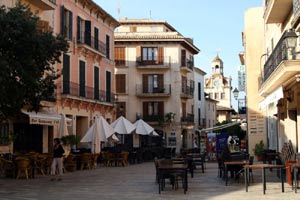 Alcúdia is a municipality and township of the Spanish autonomous community of the Balearic Islands, and a main tourist centre on the island of Majorca. Apart from the nearby sandy beaches the main tourist attraction is the Hidropark, as well as being home to Hotetur Bellevue complex, the largest holiday resort in Europe[citation needed]. Every Sunday and Tuesday there is a market in the old town of Alcudia.

The old town lies within an ancient Moorish fort wall from centuries ago. The walls are not Roman, but there are remains of a Roman town just outside the town walls, called Pollentia. There is also a small Roman amphitheatre, the smallest in all of Spain. The walled town is beautiful, with much of it being pedestrianized and with plenty of squares with places to eat and drink. North of the wall is a bull ring, although most fights are mock fights. Further north and west are many coves ideal for sunbathing or snorkeling.

The beach at Alcudia is 6 miles long and stretches as far as C'an Picafort. Alcudia joins onto Playa de Muro which is home to S'Albufera; a protected nature reserve that is very popular with bird-spotters. All along the white sandy beach you can rent pedaloes, parasails, banana boats, tubes and the like. The sea is very shallow for a long time making it ideal for small kids, and there is little, if any, tide. There are also bars/restaurants at regular intervals situated right on the beach. As you move South the resort gets quieter but the sea can be less calm.

From Port d'Alcudia you can take boat trips around parts of the island, as well as daily ferries to Menorca and Barcelona.

The port has classier establishments lining the harbour. There are also nice shops along the harbour where you can buy porcelain, jewellery and the like. The harbour is pedestrianized and beautiful to walk along in the early evening.

Alcudia is around 35 minutes from Palma Airport and all but the last 5 miles or so are on a motorway.

Source:

Alcúdia places

Other areas
Alcúdia
C'an Pastilla
Cala D´Or
Camp de Mar
El Arenal
Illetas
Magaluf
Palma de Mallorca
Palma Nova
Peguera
Portals Nous
Puerto de Andratx
Puerto Pollensa
Santa Ponsa


The Alcudia guide
Produced by people living locally in Puerto Alcudia and Playa de Muro, thealcudiaguide offers you a first-hand insight into the resorts. Alcudia is an historic town with Roman and Moorish influences, Puerto Alcudia a lively modern resort with one of the finest beaches in the Mediterranean. Playa de Muro (though part of a different municipality) joins onto Puerto Alcudia and also boasts a terrific beach, some oustanding hotels and a vast nature park - S'Albufera. On thealcudiaguide.com you can find information on Bars/Clubs in Alcudia, Restaurants in Alcudia, Estate Agents in and property in Alcudia, Excursions in Alcudia and elsewhere, Fiestas in Alcudia, the History of Alcudia, Hotels in Alcudia, things for Kids in Alcudia; information about Nautical Alcudia, Services in Alcudia, Shops and shopping in Alcudia, Sport Alcudia - sailing, charters, karting and more - Travel in and to and from Alcudia, Vehicle Hire and Car Rental in Alcudia, Villas and Apartments to Rent in Alcudia and the Weather in Alcudia.