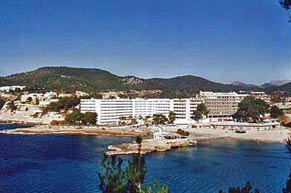 The holiday resort of Camp de Mar, along with the towns of Andratx, Port d'Andratx, S'Arracó, and Sant Elm, are the principal developments of the municipal district of Andratx on the extreme south west corner of Majorca.

As far as the distance is concerned, the 32km or 20 mile journey west from the Son Sant Joan International airport on the outskirts of Palma, to the centre of Camp de Mar is a fairly short one. The journey, for those who have chosen to drive, is also fairly straightforward for the most part, although a slight complication certainly worth mentioning is that in recent years the local Government on the island has re-numbered most of the roads on Mallorca, so please make sure that you have an up to date map before setting out!

Camp de Mar is a small tourist spot within the municipal area of Andratx. It had its development during the 80´s when several residential areas of detached houses like Biniorella, Es Salinar and Es Cap Andritxol were promoted. The Grand Hotel was the first to be built, and many celebirities stayed in. During the late XX century, constructions increased considerably. New hotels, apartments and detached houses were built. Camp de Mar beach, the landscape and a golf course are the most popular sites that tourists spending a peaceful holiday can come across.

Camp de Mar beach is a sandy spot which is 180 m long and 50 m wide. Although many hotels and apartments have been built around the beach, it is still a quiet place. The main attraction is a small island, which is linked to land by means of a footbridge and which has a restaurant which covers almost its entire surface. Services: a restaurant; sun loungers, parasols and pedal boats for hire.

Es Racó de Camp de Mar, also known as Ses Dones beach, is only a couple of hundred metres away from Camp de Mar beach as you go along the Passeig de la Platja de ses Dones. It is 150 m long and 5 m wide with a very-gently shelving seabed, which means that at 50 m out to sea the depth of the water is only 1.5 m deep.

Imagine dazzling blue waters, talcum-soft sands, pine-covered headlands and a clutch of sophisticated modern hotels bang on the beach and you're halfway here. Then throw in an island-style beach bar floating out on the water, inviting seafood restaurants and some great gift shops and you've got the whole picture.