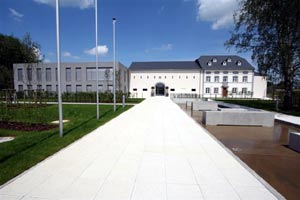 Junglinster (Luxembourgish: Jonglënster) is a commune and town in central Luxembourg in the district Grevenmacher with 5,813 inhabitants. Junglinster is known as the site of a transmitter.

As of 2005, the town of Junglinster, which lies in the south of the commune, has a population of 2,224. Other towns within the commune include Altlinster, Beidweiler, Bourglinster, Eisenborn, Eschweiler, Godbrange, Gonderange, Imbringen, and Rodenbourg.

Source:

Junglinster places

Other areas
Canach
Ehnen
Gonderange
Grevenmacher
Junglinster
Manternach


Administration Communale de Junglinster
Le 1er janvier 1979, les deux communes de Junglinster et de Rodenbourg ont fusionné pour former l'actuelle commune de Junglinster qui compte le plus d'habitants de toutes les communes de la circonscription de l'est et qui occupe le 3ème place des communes du pays en ce qui concerne la superficie.

La construction de la station émettrice de Radio Luxembourg en 1931/32 - dont les pylônes restent l'emblème de la localité de Junglinster - ainsi que l'exploitation de la scierie par les frères Clement ont été à la base du changement du caractère plutôt agricole de la région en caractère industriel, artisanal et commercial. Depuis une vingtaine d'années, la commune connaît un essor certain et sa population est passée de 3.472 habitants en 1979 à quelque 5.800 en 1999. Grâce à la création de la zone d'activités en 1990, Junglinster est devenu un centre commercial dynamique et attrayant.

L'église paroissiale de Junglinster, de style baroque tardif, érigée entre 1771 et 1773, a toujours été considérée comme un monument de grande valeur. Le château de Bourglinster fait partie du nombre des châteaux de notre pays dont l'état de conservation est remarquable. Les travaux de restauration, exécutés par les soins du Service des Sites et Monuments, sont quasiment terminés et les intéressés peuvent visiter le château, y organiser des banquets et des réceptions, profiter de l'offre des différents restaurants.