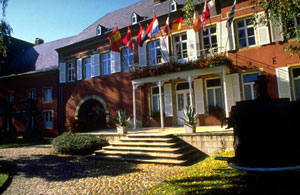 Ehnen has an old reputation for the subtle fragrance of its vineyards and the characteristic tang of its wines. The area is also well-known for its old world alleys, the elegance of its aquatic sports and the quality of its river fishing. A famous beauty spot of Luxembourg's Moselle, on the banks of a calm, idyllic river, reflecting the charm of the stately village.

Source:

Ehnen places

Other areas
Canach
Ehnen
Gonderange
Grevenmacher
Junglinster
Manternach


The Wine Museum in Ehnen
The Wine Museum is located in a former vintner's house in the picturesque village of Ehnen on the banks of the river Moselle. The museum was opened in 1978 and belongs to the Luxembourg state. The wine making year is shown with pictures and tools, from the winter rest of the vines, through the fight against disease and the harvest, to the final preparation and bottling of the wine. There is also a bottle collection and a look back at the home of the grower, with antiques.