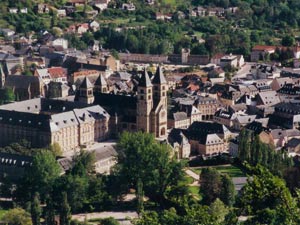 Echternach (Luxembourgish: Iechternach) is a commune with city status in the canton of Echternach, which is part of the district of Grevenmacher, in eastern Luxembourg. Echternach lies near the border with Germany, and is the oldest town (current population 4,610) in Luxembourg.

It grew around the walls of the Abbey of Echternach, which was founded in 698 AD by St. Willibrord, an English monk of Ripon, who became the first bishop of Utrecht and worked to Christianize the Frisians. As bishop, he directed the monastery as abbot until his death in 739. It is in his honour that the dancing procession takes place annually on Whit Tuesday. This is the only such dance which survives in the region; there was formerly also one at the Mont St. Jean in Dudelange.

Source:

Echternach places

Other areas
Beaufort
Berdorf
Bollendorf-Pont
Christnach
Consdorf
Echternach
Grundhof
Haller
Müllerthal
Steinheim


La ville d' Echternach
Ville historique, fondée en 698 par le moine irlandais Willibrord. Située dans le creux d'un méandre de la Sûre, à l'entrée de la Petite Suisse luxembourgeoise près du Mullerthal et dans le parc naturel germano - luxembourgeois.

Echternach tourist
The oldest town in Luxembourg, founded in 698 by St Willibrord, a monk of Irish origin. Situated at 160 meters above sea-level with a population of 5200 inhabitants. Located in the meander and valley of the Sauer and at the centre of the 'Petite Suisse Luxembourgeoise', which is part of the German-Luxembourg nature park. 2000 years of prestigious history bear witness to many architectural heritages: the Roman villa with pars urbana, the St. Peter and Paul Church with merovingian, romanesque and gothic styles, the romanesque Basilica with crypt and tomb of St. Willibrord, the Cross of Justice and the gothic Town Hall on the market place, remnants of the ancient town wall with 7 restored medieval towers, the baroque Benedictine Abbey, the Rococo Pavillion in the municipal park, 4 museums, a pedestrian zone, a recreational centre with 60 ha. lake, 70 km of extensive tourist paths for walks through unique wood and rock landscapes. The Spring Procession takes place on Tuesday after Whitsun. The classical music festival has been held in May/June since 1975. 15 hotels, numerous restaurants, youth hostel, 2 camping sites.