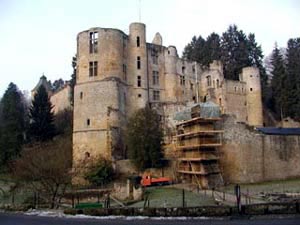 Beaufort (Luxembourgish: Beefort, German: Befort) is a commune and town in eastern Luxembourg. It is part of the canton of Echternach, which is part of the district of Grevenmacher.

As of 2005, the town of Beaufort, which lies in the centre of the commune, has a population of 1,366. Other towns within the commune include Dillingen.

The castle of Beaufort was built in the 12th century and was later restored by the governor of Luxembourg, Jean de Beck, in the 16th century.

Source:

Beaufort places

Other areas
Beaufort
Berdorf
Bollendorf-Pont
Christnach
Consdorf
Echternach
Grundhof
Haller
Müllerthal
Steinheim


Beaufort links

Links Categories
GENERALS


Beaufort Castle
Beaufort Castle is an atmospheric, medieval ruin, great fun to explore. Only partially restored, it is roofless but has impressive towers, a well and a dungeon with torture equipment, including the rack. Dating from the mid 12th Century, the castle was enlarged in 1380 and 1500. At one time, it had a moat. Located slightly west of the village, the castle is usually illuminated in the evening during the summer months.