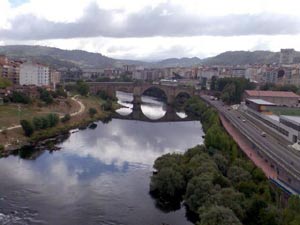 Ourense (Spanish: Orense; Galician: Ourense) is a city in northwestern Spain, the capital of the province of Ourense in Galicia. Its population of 109,001 (2002) accounts for 30% of the population of the province. Ourense also has a beautiful Romanesque cathedral.

Source:

Ourense places

Other areas
A Capela
A Coruña
A Estrada
A Lanzada
Adigna
Ferrol
Lugo
Ourense
Pontevedra
Santiago de Compostela
Vigo


Página Turismo de Ourense
La ciudad de oro. Así la llamaron los romanos y, aunque hace ya muchos años que el Miño no deja en sus riberas el preciado metal, los orensanos parecen haber descubierto un tesoro aun más valioso: el tiempo.

Compartirlo con ellos, pasear por sus calles y parques, descubrir el Ourense modernista o perderse por el casco antiguo no tiene precio. Porque esta ciudad está llena de joyas. Cruzar su Puente Romano, construido en tiempos del emperador Trajano, o contemplar desde los miradores del Puente del Milenio el extraordinario paisaje del río Miño es toda una experiencia.