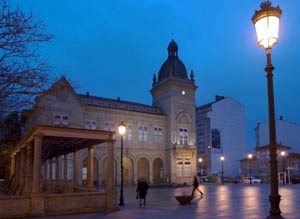 A Estrada (Galician/Spanish: La Estrada) is a municipality of the Pontevedra province in Galicia in northwestern Spain. It is located some 15 miles southeast of Santiago de Compostela. A Estrada is the chief town of a densely-populated mountainous district; its industries are agriculture, stockbreeding, and the manufacture of linen and woollen cloth. Timber from the mountain forests is conveyed from Estrada to the Ulla River, 4 miles north, and thence floated down to the sea ports on Arosa Bay. There are mineral springs at A Estrada and at Caldas de Reis, 11 miles west-southwest.

Source:

A Estrada places

Other areas
A Capela
A Coruña
A Estrada
A Lanzada
Adigna
Ferrol
Lugo
Ourense
Pontevedra
Santiago de Compostela
Vigo


| | |
| --- | --- |
| A Estrada links | Links Categories |

A Estrada municipality
The Municipality of A Estrada is strategically located between Pontevedra and Santiago de Compostela, and borders the municipalities of Cuntis, Campo Lameiro, Cerdedo, Forcarei, Silleda, Pontecesures, Valga, Teo, Padrón, Vedra e Boqueixón.