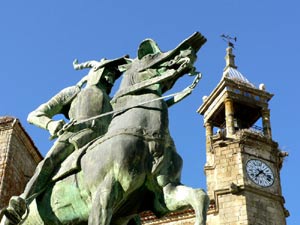 Trujillo is a town in Spain, in the Extremadura region. Originally the Roman town was called Turgalium, which is probably of Celtic origin. The town now calls itself the "Cradle of the Conquistadores", having been the birthplace of many men who sought their fortune in the New World. Celts, Romans, Moors, and Christians have inhabited Trujillo over the centuries.

Trujillo has a population of 9,219 (2001 census). It is situated in the province of Cáceres at 39°29′N, 5°53′W and its altitude is 564 metres above sea level. It is connected to Cáceres, at 47 kilometres to the east, by RN 521, and to Madrid, about 250 kilometres to the northeast, by N-V . Trujillo municipality has an area of 655 km².

Trujillo has a castle which overlooks the town and the surrounding plains. A fortification had existed for a long time before it was occupied by the Moors. It came into Christian hands in 1233. Juan II officially made it a city in 1431. The castle is on the top of a hill called Cabezo de Zorro (fox's head), and the patron saint, the Virgin of Victory, is on a window on the top of the castle.

Source:

Trujillo places

Other areas
Badajoz
Cáceres
Mérida
Plasencia
Trujillo


Trujillo Espana
Perched on a hill some 580 meters above sea level, dominating an extensive plain between Extremadura's two major rivers the Tagus and the Guadiana, lie the Towers of Trujillo. Trujillo is crowned by its Moorish Castle, built on Roman foundations, ramparts and fortifications. The origins of this important city, with its dominant historical roots, go back to six centuries before Christ.