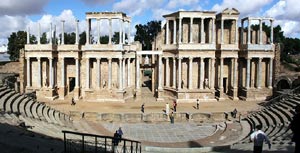 Mérida is the capital of the autonomous community of Extremadura, Spain. It has a population of 53,915 (2006).

Among the remaining Roman monuments are the Puente Romano, a bridge over the Guadiana river that is still used by pedestrians; an important fortification to defend the bridge, lately used by the Moors, called Alcazaba; the Temple of Diana; the remains of the Forum, including the Arch of Trajan; the remains of the Circus Maximus; the Acueducto de los Milagros (aqueduct); a villa called the Mitreo; the Embalse de Proserpina and Cornalvo reservoirs; the Circus, the Amphitheatre and the Roman Theatre where a summer festival of Classical theatre is presented, usually with versions of Greco-Roman classics or modern plays located in ancient times. One can also visit the Morerías archaeological site and many others all around the city, and watch digging in progress, as well as the Museo Nacional de Arte Romano (by Rafael Moneo). There are several buildings of contemporary age as Escuela de la Administración Pública (Public Administration College), Consejerías y Asamblea de Junta de Extremadura (councils and parlament of Extremadura), Agencía de la Vivienda de Extremadura (Housing Agency of Extremadura), Biblioteca del Estado (State Library) , Palacio de Congresos y Exposiciones (auditorium), Factoría de Ocio y Creación Joven (cultural and leisure center for young), Complejo Cultural Hernán Cortés (cultural center), Ciudad Deportiva (sport's city), Universidad de Mérida (Mérida University), Confederación Hidrografica del Guadiana (Guadiana Hydrografic Confederation from Rafael Moneo), Puente Lusitania (Lusitania Bridge over Guadiana River from Santiago Calatrava), Palacio de Justicia (Justice Hall)...

It is necessary to visit also the Santa Maria's Cathedral and the Santa Eulalia's Basilic.

Source:

Mérida places

Other areas
Badajoz
Cáceres
Mérida
Plasencia
Trujillo


Mérida introduction
Situated on the shores of the Guadiana River is a monumental city called Merida. It is one of the most famous Roman capitols of the Iberian Peninsula. It was founded in 25 BC by the Roman emperor Augusto who established the city for retired soldiers to honor their dedicated service to Rome. It thus became a town where the honored veterans could live out their days in peace.

The city was originally called "Emerita Augusta" in honor of the founder of the city. It quickly became the capital of the province of Lusitanica. Merida was situated strategically between two important trading routes, one that led from Astorga to Italy and the other that went between Tarraco to Lisbon. Therefore, Merida prospered quickly and by the 4th Century had become the ninth most important city in the Roman Empire with a population of 35,000.