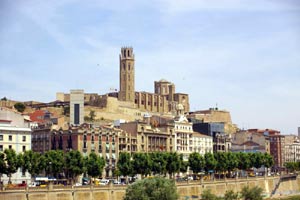 Lleida is a city in the west of Catalonia, Spain. It had 124,709 inhabitants as of 2005, including the attached municipalities of Raïmat and Sucs. It is the central city of the province of the same name.

Lleida is the capital city of the comarca (county) Segrià and the province that takes its name. Its economy is mostly based on commerce and services, being one of the most important population and economic inland centres in Catalonia.

Source:

Lleida places

Other areas
Barcelona
Empúries
Figueres
Girona
Lleida
Sitges
Tarragona


Lleida tur
Lleida is also one of the leading destinations in Spain for adventure sports. Over 150 specialised companies operate in this province, which is a venue for various world championship events (kayak, paragliding, hang-gliding, canoeing) and also an exceptionally beautiful territory for nature lovers, offering such activities as trekking, walking its SGRs, mountain biking, horse riding excursions, fishing and hunting. Lleida offers a wealth of natural spaces. These include: the Aigüestortes i l'Estany de Sant Maurici Natural Park, which is the only Natural Park in Catalonia; its main rivers, which are ideal for rafting; and more than 500 lakes. There are lots of reasons to come and discover Lleida and share its sensations with friends and family!