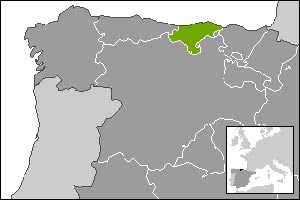 Cantabria is a Spanish province and autonomous community with Santander as its capital city. It is bordered on the east by the Basque Country (Biscay), on the south by Castile and León (provinces of León, Palencia and Burgos), on the west by the Principality of Asturias, and on the north by the Cantabrian Sea (Bay of Biscay).

Cantabria belongs to the Green Spain, the name given to the strip of land between the Cantabrian Sea and the Cantabrian Mountains in northern Spain. It is called green because it has a wet and moderate oceanic climate, strongly influenced by the Atlantic Ocean winds that get trapped by the mountains. The average precipitation is about 1,200 mm, this allows the lush vegetation to grow.

Cantabria is the richest region in the world in archaeological sites from the Upper Paleolithic period. The first signs of human occupation date from Lower Paleolithic, although this period is not so well represented in the region. The most significant cave painting site is Altamira, dated from about 16.000 to 9.000 BC and declared a World Heritage Site by UNESCO.

Source:

Cantabria places
Castro Urdiales
Laredo
Santander
Santoña
Torrelavega

Other areas
Andalusia
Aragon
Asturias
Balearic Islands
Basque Country
Canary Islands
Cantabria
Castile and León
Castile la Mancha
Catalonia
Extremadura
Galicia
La Rioja
Madrid Community
Murcia Community
Navarre
Valencian Community


| | |
| --- | --- |
| Cantabria links | Links Categories |

Turismo Cantabria
Cantabria, in the north of Spain, covers an area of 5,289 square kilometres between the mountains of the Cordillera Cantabrica and the Cantabrian Sea. Proposals include Interpretation Centre of the Caves of Monte el Castillo, Cave of Covalanas, Cave of El Pendo, Cave of Hornos de la Peña, Altamira Museum, Domus of Lulobriga, The Roman Baths of Camesa Rebolledo, Cantabrian Museum of Prehistory and Archaeology, Cantabrian Museum of Ethnography, Maritime Museum of the Cantabrian Sea, House of José Mª de Cossío, Casona Tudanca, Palace of Sobrellano, Cantabrian Nature Museum, Cabárceno Nature Park, Picos de Europa- Fuente Dé Upper Station.
| | | | | | |
| --- | --- | --- | --- | --- | --- |
| Santoña is a village in the western coast the autonomous community of Cantabria, on the north coast of Spain. It is situated by the bay of the same name. It is ... more | The port city of Santander is the capital of the autonomous community of Cantabria situated on the north coast of Spain between Asturias (to the west) and the B ... more | Castro Urdiales, a seaport of northern Spain, in the autonomous community of Cantabria, situated on the bay of Biscay and at the head of a branch railway connec ... more | Laredo is a town in the Northern Spanish province and autonomous community of Cantabria. Located between the cities of Santander and Bilbao, Laredo is well know ... more | Torrelavega (43°20′N, 4°02′W) is a municipality and important industrial and commercial hub in the single province Autonomous Community of Cantabria in no ... more | |