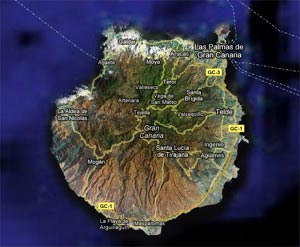 Gran Canaria is the third largest island of the Canary Islands, an archipelago located in the Atlantic Ocean 210 km from the northwest coast of Africa and belonging to Spain. It is located southeast of Tenerife and west of Fuerteventura. The island is of volcanic origin, which is mostly made of fissure vents.

The island was populated by the Guanches, who may have arrived as early as 500 BC. The Guanches called the island Tamarán. It was claimed by Spain in the 15th century.

Gran Canaria's surface is 1,560 km² and its maximum altitude is 1,949 meters (Pico de Las Nieves). It has a round shape, with a diameter of approximately 50 km.

It is divided into twenty-one municipalities: Agaete, Agüimes, Artenara, Arucas, Firgas, Gáldar, Ingenio, Mogán, Moya, Las Palmas de Gran Canaria, San Bartolomé de Tirajana, San Nicolás de Tolentino, Sta. Brígida, Sta. Lucía de Tirajana, Santa María de Guía, Tejeda, Telde, Teror, Valleseco, Valsequillo, Vega de San Mateo

Source:

Gran Canaria places

Other areas
El Hierro
Fuerteventura
Gran Canaria
La Gomera
La Palma
Lanzarote
Tenerife


Gran Canaria Info
Travel guide, directory of links, a forum and live weather reports of Gran Canaria. Gran Canaria Guide with resort and accommodation reviews, more than 3500 professional Gran Canaria photos and a spectacular (interactive) Photo Map, a Forum which acts as a human help desk, News and down below, a Directory and Search Engine for all websites related to Gran Canaria.