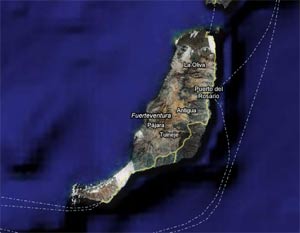 Fuerteventura, a Spanish island, is one of the Canary Islands, in the Atlantic Ocean off the coast of Africa. It is situated at 28°20' north, 14°00' west. At 1,660 km² it is also the second largest of the islands.

Source:

Fuerteventura places

Other areas
El Hierro
Fuerteventura
Gran Canaria
La Gomera
La Palma
Lanzarote
Tenerife


Sunny Fuerteventura
Fuerteventura, Canary Islands, Spain. Whether you are looking for information to help make your Fuerteventura beach holiday more enjoyable, you are looking for a Fuerteventura villa to rent, or you live here and want to know what is new on Fuerteventura, we welcome you to sunnyfuerteventura.com, your one stop guide to our favourite Canary Island. The photo shows people enjoying a Fuerteventura beach at Caleta de Fuste. More information about other beaches can be seen at Fuerteventura beaches.

Fuerteventura.com
Welcome to the Fuerteventura accommodation for rent guide, where you will find a large selection of Fuerteventura hotels, apartments, villas and rural accommodation offers, at the very best prices.
,br> Package holidays and hotels aren't for everyone. Some prefer to have their 'own' accommodation on Fuerteventura to relax and unwind in.

Our Fuerteventura accommodation guide offers a great alternative those package holidays giving you the ability to select the exact type of rental accommodtion you require. Even if its Long term or short term rental accommodation, there is a vast choice of accommodation to choose from, ranging from luxury 3 and 4 bedroom villas to basic yet comfortable properties.