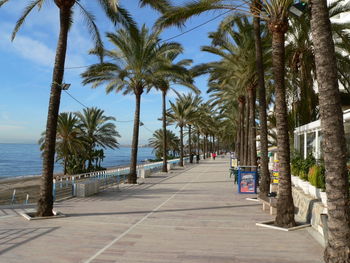 Marbella is a city in Andalusia, Spain, by the Mediterranean, situated in the region of Málaga, beneath La Concha. In 2000 the city had 98,823 inhabitants, in 2004, 116,234.

Marbella is an important beach resort of the Costa del Sol. The town is famous for being a playground for the famous and super-rich. Marbella is internationally recognised as a favourite destination for extremely wealthy tourists from Northern Europe, in particular the UK, Ireland, France, Germany, Scandinavia and also to wealthy Arabs. The area around Marbella is particularly popular with those who like Golf.

It is easy to reach other places, like Malaga and Algeciras, by bus. The area is also served by the A7 autovia, and the closest airport is at Malaga.

Source:

Marbella places

Other areas
Acalá del Río
Córdoba
Fuengirola
Granada
Málaga
Marbella
Nerja
Seville


What Marbella
lanning to travel to Marbella, Spain? Living in Marbella and looking for more info about your new city? Marbella City Guide. Learn all about Marbella, Spain in our in-depth and always up-to-date Marbella City Guide. Check out these 5 easy to navigate sections to find out what's up in Marbella, Spain.

About Marbella
Marbella, 100 kilometres square and 24 kilometres of beach, is known all over the world as one of the classiest and most beautiful holiday destinations in Southern Europe. It has everything: beaches, mountains, old world charm, cosmopolitan atmosphere and services, countryside and city, and a wonderful climate that keeps the temperatures cooler in summer and warmer in winter than the rest of Malaga province. From Cabopino to Guadalmina, passing through the pleasure ports of Marbella and Puerto Banús, the coastline is fine sand all the way, and the land that goes back from the beaches is a paradise of luxury housing developments, golf courses and beautiful mountain scenery. It is little wonder that Marbella has attracted the rich and famous for many decades, and that many people who come here on holidays decide to stay.

1 - Don Carlos Beach & Golf Resort Hotel - Marbella

Class :
No of rooms : 265
City : Marbella
Address : Carretera de Cádiz km 192, (29604) Marbella - España
5 stars Hotel situated on Marbella´s finest beach, set amid 40.000 m2 of lush subtropical gardens, offers 231 rooms and 34 Suites.It is refurbished in an exclusive contemporany design and state of th more ...

2 - Gran Hotel Guadalpin Banus - Marbella

Class :
No of rooms : 181
City : Marbella
Address : Edgar Neville, s/n · Nueva And
Enjoy our Spa & Golf Breaks including Delicious Buffet Breakfast in Lorea Restaurant overviewing the Mediterranean Sea, 2 Relaxing Thermal Circuit or 2 Greenfees, Complimentary Wireless Connection...a more ...

3 - H10 Andalucia Plaza - Marbella

Class :
No of rooms : 400
City : Marbella
Address : Urb. Nueva Andalucía s/n
The hotel is located in Marbella opposite the world famous Puerto Banús marina. There are a number of top ranked golf courses nearby, and the hotel facilities provide comforts of all kinds so that more ...