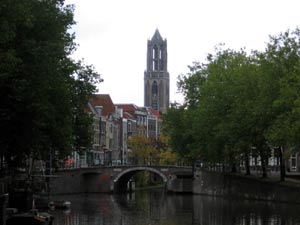 Utrecht city is the capital and most populous city of the Dutch province of Utrecht. It is located in the Randstad, and is the fourth largest city of the Netherlands, with a population of 288,732. The total Utrecht agglomeration counts some 620,000 inhabitants.

Utrechts ancient city-center features many buildings and structures from its earliest origins onwards. It has been the religious centre of the Netherlands since the 8th century. Currently it is the see of the Archbishop of Utrecht, the most important Dutch Roman Catholic leader. Utrecht is also the see of an archbishop of the Old Catholic church, and the location of the offices of the main protestant church.

Utrecht is host to Utrecht University, the largest university of the Netherlands, as well as several other institutes for higher education. Due to its central position within the country it is an important transportation hub (rail and road) in the Netherlands. It has the second highest number of cultural events in the Netherlands, after Amsterdam.

Source:

Utrecht places

Other areas
Amsterdam
Badhoevedorp
Delft
Eindhoven
Haarlem
Hoofddorp
Maastricht
Rotterdam
Scheveningen
The Hague
Utrecht


Utrecht.nl
Welcome to Utrecht, information about the city. Utrecht is the fourth largest city of the Netherlands, with a population over 0.25 million. Utrecht's central location in the Netherlands makes it an attractive city to live in and a favourite enterprise location. Utrecht has a rich history that goes back to the beginning of our calendar. The old inner-city, with its canals and cellars by the wharves, ancient churches, and of course the Dom tower, give the city a distinctive character.

Utrecht city
Utrecht City directory provides information on hotels, hostels, museums, attractions, where to shop, nightlife, coffeeshops in Utrecht, The Netherlands. Utrecht is famous for its many shops and beautiful canals. Located only 42kms southeast of Amsterdam, the city of Utrecht is a good base for discovering the area. The city is full of churches, with more restored medieval religious structures than any other city in Europe. The bi-level, tree-shaded wharf along the Oude Gracht canal through the old centre offers an array of restaurants, shops, and summer cafés.