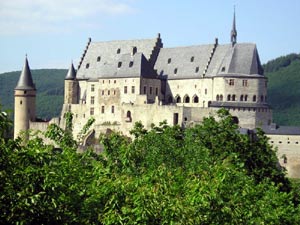 Vianden (Luxembourgish: Veianen) is a commune with city status in the Oesling, north-eastern Luxembourg, with over 1,500 inhabitants. It is the capital of the canton of Vianden, which is part of the district of Diekirch. Vianden lies on the Our river, near the border between Luxembourg and Germany.

As of 2001, the town of Vianden, which lies in the east of the commune, has a population of 1,511. It is known for its impressive castle and beautiful location in the Our valley.

Source:

Vianden places

Other areas
Putscheid
Tandel
Vianden


Tourist Office Vianden
Embedded in the splendid landscape of the Ardennes, Vianden hat tourist tradition for more than a hundred years. Like the famous French poet Victor Hugo, thousands of visitors are charmed each year by the narrow and paved lanes, the gothic churches, the ramparts and fortified towers of the small medieval town, dominated by the magnificent, restored castle. Meanwhile, well-maintained tracks, offering spectacular panoramic views, invite the passionate walkers to meet the fauna and flora in the wide forests and narrow valleys.

Vianden castle
Vianden castle and its buildings, which had attracted Victor Hugo's admiration during his visits to the Grand Duchy, have a total length of 90 m. They are surrounded by a long and beautiful fortified wall. You enter the castle through five gates, the first of which had a drawbridge.