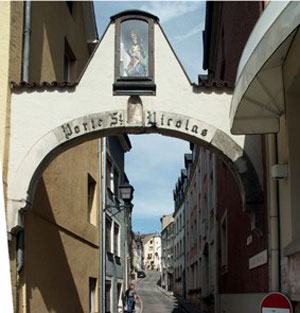 Remich (Luxembourgish: Réimech) is a commune with city status in south-eastern Luxembourg with just under 3,000 inhabitants. It is the capital of the canton of Remich, which is part of the district of Grevenmacher. Remich lies on the left bank of the Moselle river, which forms part of the border between Luxembourg and Germany. The commune is the smallest in Luxembourg in area. As of 2005, the town of Remich, which lies in the east of the commune, has a population of 2,883.

The Moselle valley is dominated by wine-making and many small wine-making towns, of which Remich is one of the most picturesque and frequented by tourists.

Source:

Remich places

Other areas
Mondorf-les-Bains
Remich
Stadtbredimus


Remich - Perle de la Moselle
Remich, l'antique Remacum des Romains, fut dans le passé une petite bourgade de pêcheurs et bateliers. Elle fut aux cours des siècles à maintes reprises mise en cendres par les conquérants de la région mosellane, ce qui entraînait la construction de remparts, dont on peut encore voir les vestiges à l'heure actuelle. Mais aujourd'hui Remich justifie avec fierté sa renommée.