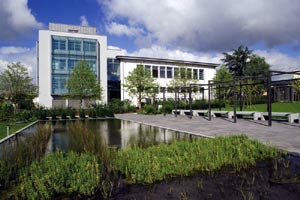 Strassen (Luxembourgish: Stroossen) is a commune and town in central Luxembourg. It is part of the canton of Luxembourg, which is part of the district of Luxembourg. As of 2006, the town of Strassen, which lies in the south of the commune, has a population of 6,880.

Strassen was formed on 1 January 1850, when it was detached from the commune of Bertrange. The law forming Strassen was passed on the 6 August 1849.

Source:

Strassen places

Other areas
Luxembourg city
Strassen


Administration Communale de Strassen
La localité de Strassen, située au bord ouest de la capitale de Luxembourg, mérite de porter son nom. Pour ce qui est de sa population, la commune tient la 18ième place au Grand Duché; mais quant à sa superficie, elle est une des plus petites du pays. Un des problèmes majeurs de la commune est le réseau routier avec sa circulation assez dense. S'y ajoutent le problème de stationnement, la liaison directe avec les communes voisines, les raccords autoroutiers et le trafic dans les heures de pointe.