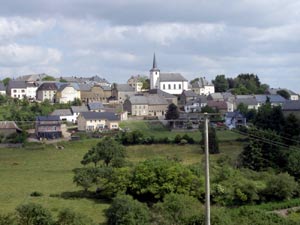 Bourscheid (Luxembourgish: Buurschent, German: Burscheid) is a commune and small town in north-eastern Luxembourg. It is part of the canton of Diekirch, which is part of the district of Diekirch.

As of 2005, the town of Bourscheid, which lies in the centre of the commune, has a population of 266. Other settlements within the commune include Goebelsmuhle, Lipperscheid, Michelau, Schlindermanderscheid, and Welscheid.

Source:

Bourscheid places

Other areas
Bourscheid
Diekirch
Hoscheid
Wallendorf-Pont
Welscheid


Bourscheid Castle
Son histoire peut être retracée jusqu'en 1095, année en laquelle le châtelain Bertrand de Bourscheid fut mentionné pour la première fois. Le début de sa construction est toutefois estimé autour de l'an 1000 sur des vestiges datant de périodes antérieures.