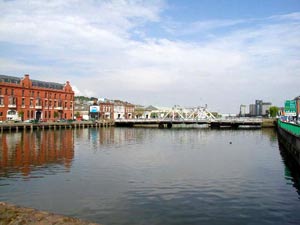 Cork is the second city of the Republic of Ireland and Ireland's third most populous city after Dublin and Belfast. It is the principal city and administrative centre of County Cork and the largest city of the province of Munster.

The city of Cork has a population of 119,143, while the addition of the suburban areas contained in Cork County brings this total to 190,384. Metropolitan Cork has a population of approximately 274,000, while the Greater Cork area is about 380,000.

The city's name is derived from an Irish word corcach meaning "marshy place", referring to its situation on the River Lee. Cork has a reputation for rebelliousness dating back to the town's support of the English pretender Perkin Warbeck in 1491 following the Wars of the Roses. Cork County has the nickname of "the Rebel County", and Corkonians often refer to Cork as the "real capital of Ireland".

The River Lee flows through the city, an island in the river forming the main part of the city centre just before the Lee flows into Lough Mahon and thence to Cork Harbour, one of the world's largest natural harbours. The city is a major Irish seaport — with quays and docks sited along the broad waterway of the Lee on the city's East side, while Cork plays host to the World's second largest natural harbour, after Sydney, Australia.

Source:

Cork places

Other areas
Castlebar
Clondalkin
Cork
Dublin
Ennis
Galway
Kilkenny
Killarney
Letterkenny
Limerick
Waterford


Cork guide
County Cork is situated in themap of Ireland towns South West of Ireland, it is the largest of all the Irish counties and in many ways the most varied. Rich farmlands and river valleys contrast with the wild sandstone hills of the west, and above all there is the magnificent coastline scooped and fretted by the Atlantic into great bays and secret coves, strewn with rocky headlands and long soft golden sands.