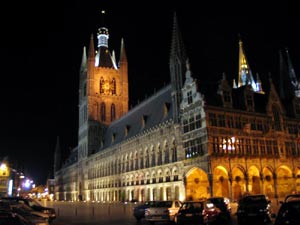 Ypres (French, pronounced /ipr/ generally used in English) or Ieper (official name in Dutch) is a Belgian municipality located in the Flemish province of West Flanders. The municipality comprises the city of Ypres and the villages of Boezinge, Brielen, Dikkebus, Elverdinge, Hollebeke, Sint-Jan, Vlamertinge, Voormezele, Zillebeke, and Zuidschote.

During World War I, Ypres was the centre of intense and sustained battles between the German and the Allied forces.

Source:

Ypres places

Other areas
Antwerp
Bruges
Brussels
Diegem
Ghent
Leuven
Liège
Mechelen
Mons
Ostend
Ypres


Ieper Tourism
The Tourist Office is responsible for welcoming tourists from Belgium and abroad, for touristic promotion, creating and organising arrangements for groups, assisting with reservations for accommodation and group meals, organising and assisting with tourist events and festivals, welcoming journalists, the sale of books, brochures, route descriptions and the like. Moreover, the Tourist Office is also responsible for group reservations and for the business management of the In Flanders Fields Museum. At the Regional Visitors' Centre for Ypres & the Westhoek, where the Tourist Office is located, you will find an information and reservation counter, a shop with all kinds of cycling, walking and car routes, books, postcards, posters, gadgets... and a regional exhibition with interactive scale model and thematic kiosks.