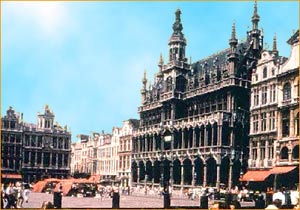 Brussels is the capital of Belgium, of Flanders (consisting of both the Flemish Community and the Flemish Region) and of the French Community of Belgium, and it is the headquarters of most of the European Union's institutions. Brussels is the capital city, in the centre of Belgium, and also the largest municipality of the Brussels-Capital Region. This municipality inside Brussels is correctly named The City of Brussels which is one of 19 municipalities that make up the Brussels-Capital Region with a total population of 1,024,492 inhabitants (1 January 2006). The municipality has a population of about 140,000. The Metropolitan area has about 2,090,000 inhabitants.

Brussels is also the political seat of NATO, the Western European Union (WEU) and EUROCONTROL, the European Organisation for the Safety of Air Navigation (see: Political centre, below).

Brussels has earned the title of the Capital of Europe. Brussels has been given its character by the coexistence of French and Flemish culture, and it is nowadays home to nationalities around the world, adding a cosmopolitan flavour to its atmosphere. The vibrant atmosphere of Brussels is further enhanced by picturesque medieval streets, lively squares, beautiful boulevards, impressive monuments, spacious parks, cosy cafés, interesting restaurants and an active cultural life.

Source:


1 - Best Western Premier Carrefour de l'Europe - Brussels

Class :
No of rooms : 64
City : Brussels
Address : Grasmarkt 110
This elegant 4-star hotel is ideally located in the centre of Brussels, just 50 metres away from the historic centre and the Grand Place. During the day you can visit the main sights of the city, bef more ...

2 - Silken Berlaymont Brussels - Brussels

Class :
No of rooms : 214
City : Brussels
Address : Boulevard Charlemagne 11 - 19
The Hotel Silken is a unique combination of art, culture and comfort. This 4-star deluxe hotel, located in the heart of the European Quarter of Brussels and only 4 metro stops away from the "Grand Pla more ...