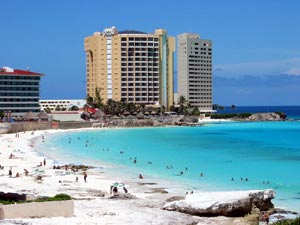 Cancún is a coastal city in Mexico's easternmost state, Quintana Roo, on the Yucatán Peninsula.

It is the municipal seat of Benito Juárez municipality and a world-renowned tourist resort with modern beachfront hotels surrounded by Isla Mujeres ("Women Island"), the Caribbean Sea, and the Nichupte and Bojórquez lagoons. The mainland downtown commercial section (Cancún City), connected to the island by two bridges, has broad avenues lined with shops, restaurants, and hotels.

The older section of the city, which follows the original master plan, consists of neighborhoods called supermanzanas (superblocks) that are formed by the intersections of the boulevards. They are characterized by winding streets with cul-de-sacs that tend to keep out the main flow of traffic, and usually have one or more parks and other green spaces.

To save on the cost of installing sewage systems and other public services, the design of much of the rest of the city reverted to the grid plan after Hurricane Gilbert (1988). The newest upper-middle-class residential areas reflect the original plan, but are much less initimate. Less expensive developments are comprised almost entirely of identical one- or two-story small row houses, sometimes built around interior plazas. Almost all buildings on the mainland are under four stories high.

Source:


1 - Hotel Sotavento - Cancún

Class :
No of rooms : 90
City : Cancún
Address : Sotavento Hotel and Yacht Club Blvd. Kukulcan Km 4 Zona Hotelera Calle del Pescador, Lote D-8-4 Cancun, Quintana Roo Mexico
We are conveniently situated in the hotel zone of Cancun, just 10 minutes from the downtown area, in front of Nichupte Lagoon, near the golf course, shopping malls, bars, and restaurants. We offers 9 more ...