Africa / South Africa travel directory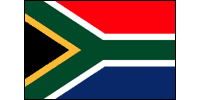 The Republic of South Africa is the country at the southern tip of Africa. It borders the Atlantic and Indian oceans and Namibia, Botswana, Zimbabwe, Mozambique, Swaziland, and Lesotho, an independent enclave surrounded by South African territory. South Africa is a member of the Commonwealth of Nations, and is widely regarded as the most socially and economically developed country on the continent.

South Africa has experienced a different history from other nations in Africa because of early immigration from Europe and the strategic importance of the Cape Sea Route. European immigration began shortly after the Dutch East India Company, in 1652, founded a station at what would become Cape Town. The closure of the Suez Canal during the Six-Day War exemplifies its significance. The country's relatively developed infrastructure made its mineral wealth available and important to Western interests, particularly throughout the late nineteenth century and, with international competition and rivalry, during the Cold War. South Africa is ethnically diverse, with the largest white, Indian, and racially mixed communities in Africa. Black South Africans, who speak nine officially recognised languages and many more dialects, account for slightly less than 80% of the population.

Source:

South Africa places

Other areas
Algeria
Egypt
Namibia
South Africa
Tanzania


| | |
| --- | --- |
| South Africa links | Links Categories |

Antbear Guesthouse
This Drakensberg accommondation is eccentrically refurbished using wood gathered in the surrounding valleys. It's name the Antbear Guesthouse comes from the previous resident.

Explore Africa
Auf dieser Homepage finden Sie eine Auswahl von Reiseangeboten rund um S?dafrika in Zusammenarbeit mit u.a. SAA und AVIS S?dafrika: Hotels, G?steh?user, Fl?ge, Mietwagen, Safaris u.v.m. f?r Individual-, Gruppen- und Pauschalreisende.

South Africa West Coast
We will take you off the beaten track and share the hidden corners of the West Coast, South Africa. Comprehensive travel, tourism and accommodation information. Golden wheat fields welcome you to coastal villages. The friendly, peaceful atmosphere surrounds you like a whale's song and nature greets you with awesome splendour. Our people, strong and proud. Real people. They know hard times but always feel blessed by Nature's bounty.

South Africa Tours
South Africa Tours, Safaris and Accommodation. You see, every trail, every aspect, every part of South Africa is different, each with its own qualities that makes it special.

Hermanus Misty Manor
Luxurious accommodation in Hermanus South Africa. Five Star Guest House. Lie in bed and watch the Whales! Meters from scenic cliff paths and famous rock pool. Four minute walk to Village centre and craft markets. Luxury accommodation and impressive lodging for the holiday of a lifetime!

Deadduck.co.za
Overberg accommodation search and business directory search of places to stay, goods and services search, things to do and see, Western Cape, South Africa. Overberg Accommodation Business Directory, Western Cape, South Africa

Satour.info
The splendours of Southern Africa are waiting to be explored. Visit wide-open vistas, wild bushveld teeming with natural game, rich coastlines, fertile deltas, evergreen forests and majestic mountain ranges. Journey through space and time where the end of each and every day of your travels, your experience will be enriched by the peoples and nature of this diverse region.

SouthAfricaSafari.info
Kruger & Private Wildlife Reserves Johannesburg, Highveld & Makweti. African Safari Tours and Travel.

Cape South Coast
A beautiful and unspoiled destination with endless sandy beaches, the Southern Right Whale and many other attractions for the tourist. St Sebastian Bay on the Cape South Coast is by far the most important nursery area for Southern Right Whales on the African Coast. In a recent aerial survey (October 1999), a total of 126 adults and 107 calves were counted at St Sebastian Bay and off De Hoop. This total constituted 61% of all the calves seen between Nature's Valley and Muizenberg.

Holiday Travel Packages (HTP)
HTP world holiday travel packages and international travel deals. Worldwide HOLIDAY PACKAGES - Updated daily. Competitive quotes on holiday packages to meet your exact holiday requirements.