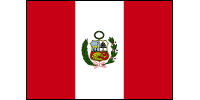 Peru is a country in western South America. It is bordered on the north by Ecuador and Colombia, on the east by Brazil, on the southeast by Bolivia, on the south by Chile, and on the west by the Pacific Ocean.

Peruvian territory was home to the Norte Chico civilization, one of the oldest in the world, and to the Inca Empire, the largest state in Pre-Columbian America. It was conquered by the Spanish Empire in the 16th century, which established a Viceroyalty with jurisdiction over most of its South American domains. Independence was declared in 1821. Since then, the country has experienced an unequal development, with cycles of political unrest and fiscal crisis as well as periods of stability and economic upswing.

Peru is a presidential representative democratic republic divided into 25 regions. Its geography varies from the arid plains of the coast of the Pacific Ocean to the high mountain peaks of the Andes mountain range and the tropical forests of the Amazon Basin. It is a developing country with a moderate Human Development Index score and a level of poverty of around 50%. Main economic activities include agriculture, fishing, mining and manufacturing of products such as textiles.

The population of Peru, estimated at 28 million, is a multiethnic society formed by the combination of different ethnic groups, including Amerindians, Africans and Spaniards. The main spoken language is Spanish, although there is an important number of speakers of Quechua and other native languages. This mixture of cultural traditions has resulted in a wide diversity of cultural expressions in fields such as art, cuisine, literature and music. The country has also a rich cultural heritage, which includes the UNESCO World Heritage Sites of Chan Chan and Machu Picchu.

Source:

Peru places

Other areas
Argentina
Brazil
Colombia
Galápagos Islands
Peru


| | |
| --- | --- |
| Peru links | Links Categories |

Machu Picchu Discover
A great resource for Machu Picchu and Cusco travel by tour specialists, with tours, hotels, flights and information by Latin Discover.

Peru4U
A Peru travel experience that you will always remember? Peru4U, a Dutch tour operating specialist, offers Western European and USA customers tours to fascinating destinations in Peru.

Incaventura
We are an agency with ten years of experience operating tours in the department of Arequipa in South Peru. We specialise in adventure tours such as trekking in the Colca Canyon, and ascents of volcanoes such as Misti and Chachani. Adventure tours climbing in the Andes Colca Canyon trekking, rafting and biking. Discover Arequipa tour.

Travel Peru
Peru Travel Guide - Tours and Hotels Reservations

Peru Hotel
Peru Hotels Reservations, Cusco, Lima, Machu Picchu, Jungle Lodge and all Hotels in Peru.