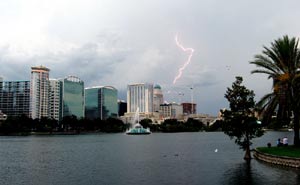 The city of Orlando is the county seat of Orange County, Florida. According to the 2000 census, the city population was 185,951. A 2006 U.S. Census population estimate gave the city population as 220,186, making it the sixth largest city in Florida. It is also the principal city of Greater Orlando. The Orlando-Kissimmee MSA is Florida's third-largest metropolitan area, behind Miami-Fort Lauderdale-West Palm Beach and Tampa-St. Petersburg-Clearwater. Orlando is also home to the University of Central Florida, which is the second largest university in Florida and has the 6th largest campus in the nation.

The city is best known for the many tourist attractions in the area, in particular the nearby Walt Disney World Resort, which is located in Lake Buena Vista about 20 miles south of Orlando city limits via Interstate 4. Other notable area attractions include SeaWorld and Universal Orlando Resort. The region sees an estimated 52 million tourists a year. Orlando has the second largest number of hotel rooms in the country (after Las Vegas, Nevada), and is one of the busiest American cities for conferences and conventions with the Orange County Convention Center, the country's second largest in square footage. It is also known for its wide array of golf courses, with numerous courses available for any level of golfer. Despite being several miles away from the main tourist attractions, downtown Orlando is undergoing major redevelopment with a number of residential and commercial towers. It is now official that Orlando will build a new performing arts center, Orlando Arena, and a refurbishment of the Florida Citrus Bowl after the final vote was complete on July 27, 2007 with the final results being 5 to 2, in favor of the 1.1 billion dollar project. Its symbol is the fountain of Lake Eola. The current mayor is Buddy Dyer.

Source:


1 - Sheraton Vistana Resort - Orlando

Class :
No of rooms : 1682
City : Orlando
Address : 8800 Vistana Centre Drive, Orlando, Florida 32821, United States
Completely furnished and fully equipped, the villas provide a welcome retreat with all the conveniences of home and daily scheduled transportation to all 4 Walt Disney World Resort theme parks, free o more ...