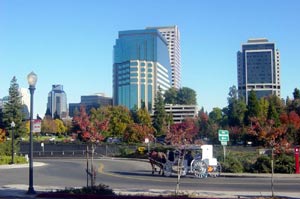 Sacramento is the capital of the State of California and the county seat of Sacramento County. Located in California's expansive Central Valley, it is the seventh most populous city in California with a 2007 estimated population of 467,343. Sacramento is the core cultural and economic center of its four-county metropolitan area (El Dorado, Placer, Sacramento, and Yolo counties) with a combined population of 2,103,956. The Sacramento Metropolitan Area is the largest in the Central Valley, and is the fourth-largest in California, behind the Greater Los Angeles Area, the San Francisco Bay Area, and the San Diego area. Greater Sacramento has been cited as one of the five "most livable" regions in America, and the city was cited by Time magazine as America's most integrated.

Sacramento became a city due to the efforts of John Sutter, a Swiss immigrant, and James W. Marshall. There were settlers in the area before this time. The Dutch came in the 1820s. Sacramento grew faster due to the protection of Sutter's Fort, which was established by Sutter in 1839. During the California Gold Rush, Sacramento was a major distribution point, a commercial and agricultural center, and a terminus for wagon trains, stagecoaches, riverboats, the telegraph, the Pony Express, and the First Transcontinental Railroad.

Typical of California informality, Sacramento is referred to by many nicknames. The most common names are Capital City, River City (after the Sacramento River and American River), and the City of Trees (due to Arbor Day recognition as a Tree City USA for 29 years). The nicknames most used by those living in Sacramento are Sac, Sactown, or Sacto. The area where Sacramento was originally developed is still in existence as a tourist venue, and is simply named Old Sacramento, or Old Sac.

California State University, Sacramento, more commonly known as Sacramento State or Sac State, is the major local university. It is one of the twenty-three campuses of the California State University system. Currently, many other universities have been proposed in the immediate metropolitan area.

Source:

Sacramento places

Other areas
Anaheim
Beverly Hills
Long Beach
Los Angeles
Oakland
Sacramento
San Diego
San Francisco
San Jose


Sacramento guide
Welcome to the official on-line travel and meeting planner for Sacramento, California. Sacramento is home to Gold Rush-era attractions, California State Capitol tours, outdoor adventures, and hotels, dining and cultural arts for every taste and budget. With more than 20 area museums and hundreds of great attractions, your visit to California's State Capital will be culturally-rich and adventure-filled. Our area's miles of recreation trails, scenic waterways, great golf courses, amazing restaurants and world-renowned wineries, offer an abudance of physical and culinary treasures. So enjoy your visit!