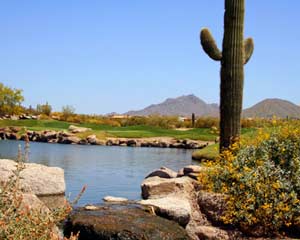 The State of Arizona is a state located in the southwestern region of the United States of America. It has a desert landscape, exceptionally hot summers and mild winters. Less well-known is the pine-covered high country in the north-central portion of the state, which contrasts with the lower deserts.

Arizona is one of the Four Corners states. It borders New Mexico, Utah, Nevada, California, touches Colorado, and has a 389 mi (626 km) international border with the states of Sonora and Baja California in Mexico. Aside from the Grand Canyon, many other National Forests, Parks, Monuments, and Indian reservations are located in the state. Arizona was the 48th and last of the contiguous states admitted to the Union on February 14, 1912. Residents are called Arizonans.

Source:

Arizona places
Scottsdale

Other areas
Alabama
Alaska
Arizona
California
Florida
Georgia
Hawaii
Illinois
Louisiana
Maryland
Massachusetts
Nevada
New York state
North Carolina
Rocky Mountains
Tennessee
Texas
Washington, D.C.


Arizona guide
In Arizona, the Grand Canyon, one of the Seven Wonders of the World exists among lush desert landscapes, crystal-clear waters and breathtaking mountain peaks. From small communities to one of the fastest growing cities in the United States, Arizona offers travelers unique experiences packed with hospitality, adventure, and stunning sights. Use this guide to start planning your Arizona vacation today. Arizona travel and vacation guide from the Arizona Office of Tourism. Find information for travel in Arizona. Guide offers vacation info about where to stay, what to do and where to go throughout the state.

Arizona.com
Arizona became a state on Valentines Day 1912. It was the last of the 48 continental states to be accepted into the Union. It would be another 12 years before another state would be designated. The word Arizona means "little spring" in the Papago Indian language. The state is located in the southwestern region of the United States, and is filled with amazing artifacts from civilizations past. Many of the ruins and artifacts can be toured at the State and National Parks found in Arizona.