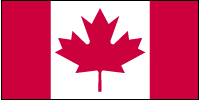 Canada is the second largest country in the world by total area. Occupying most of northern North America, it extends from the Atlantic Ocean in the east to the Pacific Ocean in the west and northward into the Arctic Ocean. Canada shares land borders with the United States to the south and northwest.

The lands have been inhabited for millennia by aboriginal peoples. Beginning in the late 15th century, British and French expeditions explored and later settled the Atlantic coast. France ceded nearly all of New France in 1763 after the Seven Years War. In 1867, Canada was formed by Confederation of four British North American colonies. A gradual process of independence from the United Kingdom culminated in the Canada Act 1982, severing the last vestiges of dependence on the British parliament.

Canada is a constitutional monarchy with Queen Elizabeth II as its head of state, with a Parliamentary system of democracy. A federation comprising ten provinces and three territories, Canada is a bilingual and multicultural country, with both English and French as official languages at the federal level. A technologically advanced and industrialized nation, Canada maintains a diversified economy that is heavily reliant upon its abundant natural resources and upon trade—particularly with the United States, with which Canada has had a long and complex relationship.

Source:

Canada places
Ontario
Vancouver Island

Other areas
Canada
Caribbean
United States


| | |
| --- | --- |
| Canada links | Links Categories |

British Columbia
Guide to British Columbia for hotels, bed and breakfast inns, resort properties, lodges, motels, inns, self catered suites, vacation rental suites and homes, cabins, cottages and marine accommodations. Bctravel.com also has BC events, outdoor adventure, salt and freshwater fishing, BC weather, transportation, BC restaurants and pubs, BC wines, BC Golf, and other local and regional information. Neighbouring states and provinces such as Alberta, Yukon, and the Pacific Northwest U.S.A. are included or linked for accommodations, transportation services and more. British Columbia, the western most province of Canada has something for everyone.

John's Gate
John's Gate Bed and Breakfast - Niagara, Canada. Bed and Breakfast accommodations in Niagara-on-the-Lake. Seniors specials, dinner/theatre packages and extended-stay discounts. Open all year.